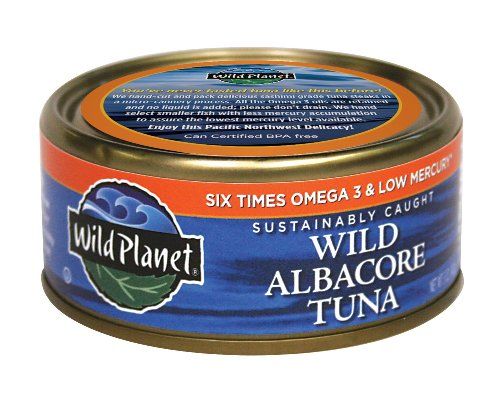 On Amazon, Wild Planet Wild Albacore Tuna is currently at an all-time low price of $13.16 for a six-pack (or $2.20 per can).  You can get it even cheaper if you sign up for Subscribe & Save, at $12.50 per six-pack (or $2.08 per can).
At first glance, this may not seem like a very good deal, if you're used to Bumble Bee and Starkist tuna prices.
But this stuff is far superior in taste and texture, and it's also better for you! It's all the rage in the paleo world, and for very good reason.  For starters, it's sustainably caught, using hand lines and "pole and troll" methods.  Because trolling & pole-catching snags smaller fish, they have had less time to accumulate mercury.  As a result, Wild Planet tuna contains less than half the mercury of other leading brands.  The ingredients are simple: 100% pure albacore tuna and sea salt packed in its own natural juices; no water or oil is added. Because it's packed in its own natural juices, you're actually advised to not drain the can (and you shouldn't, so you can retain all those valuable omega 3s!).
According to camelcamelcamel, this is currently at the "best price," meaning it's currently at the lowest Amazon price since they began tracking in May 2010. Normally, a six-pack has been running around $20 for a pack of 6 on Amazon (highway robbery!).  I know you can buy this brand at Costco (I don't have a membership, but from online accounts, it runs around ~$16 per six-pack). Last time I was at Whole Foods, it was $3.99 per can.
I picked up five six-packs myself
Bonus: Here's my favorite paleo recipe with this tuna — Tuna and avocado wraps from Nom Nom Paleo.