I was going to brag about how I scored fifty holiday cards for only 39¢ a piece on Cyber Monday.
But it turns out, you can get an even better deal today!!
Today only, you can get 29¢ holiday cards at Cardstore.com with the code CCP2229 – and you can have them shipped directly to the recipients for FREE! That saves you the cost of a stamp.
Even better, you can go through Big Crumbs and get 14.1% cash back on your Cardstore.com order! So sending fifty cards would only cost you $14.50 – $2.04 cash back = $12.46 total!!! This is seriously one of the best deals I've come across this season.
Even when we got our photo cards free in the past through special promotions, we've always had to pay for stamps. If you think about it, fifty stamps at $0.45 each would normally cost $22.50, in addition to whatever you pay for the cards. This year, I only paid $19.65 for 50 cards shipped (which I thought was a fantastic deal at the time):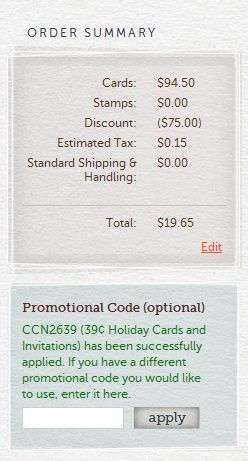 And I think our cards turned out beautifully.  I actually had a very hard time choosing the final design.  This is one of the ones I was debating over, I liked the clean modern look: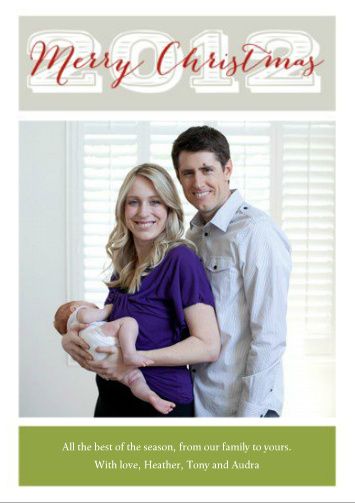 I ended up going with another design so we could include more pictures of Audra.
I will say, that it is a bit cumbersome to type in each recipient's mailing address individually (something you'll have to do if you want to ship the cards directly and save yourself a stamp).  Luckily, we had all our addresses in a spreadsheet from the wedding, and Tony the computer whiz figured out how to import our addresses from Excel.  Go to "My account" –> "address book" –> "import contacts."  Then you download their template and copy and paste all your addresses into their template.  Then upload the template.  It was pretty easy, and definitely worth saving the cost of stamps.
Don't miss out — anyone can afford to send photo cards this cheap!