From the very beginning of our wedding planning, we decided that photography was our #1 priority. We even booked our venue based on the lighting (it has the most awesome natural lighting for photos), and the availability of our photographer. We were originally considering a December wedding, but since our photographer takes off the whole month of December, a December wedding was out. Yep, I'm that serious about my photos
So, as you can imagine, the choice of the actual photographer was pretty important to me. In the end, Tony indulged me and my bridal fantasies and agreed to hire my dream wedding photographer.  I have been following Jasmine Star on my Google Reader for longer than I've known Tony. I've read every single post, viewed every single wedding and engagement session since I discovered her.  I love her blog, her personality, her down-to-earthness, her amazing portfolio, her photographic style.  Basically, I have a huge girl crush on Jasmine Star.
When we booked our wedding package with Jasmine, it came with an engagement session. We decided to drive out to meet her in Costa Mesa, CA this past weekend since it's a short 6-7 hour drive from Phoenix. An added bonus — the country's 3rd largest shopping mall happens to be in Costa Mesa. Score!
Yesterday when I saw a post with our names in the title pop up on my Google Reader it was like Christmas morning!! My heart started pounding and I squealed with delight when I went to open it!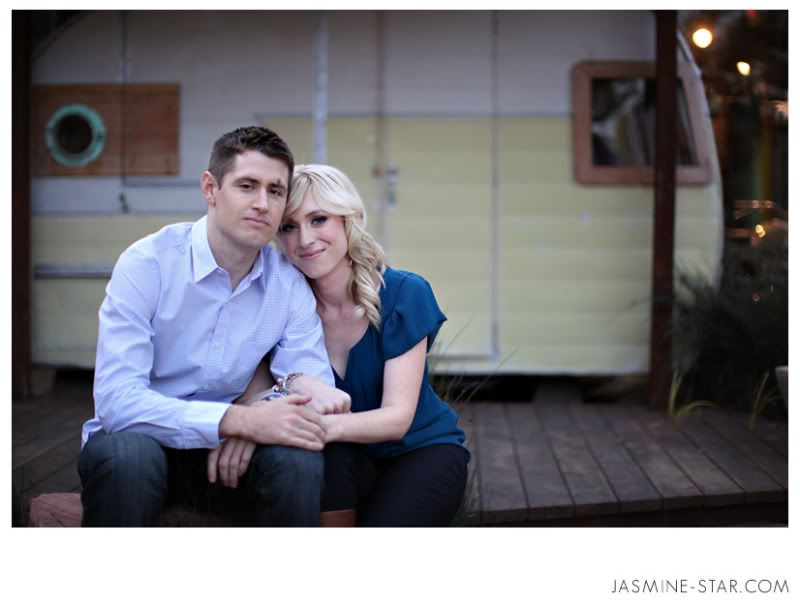 If you are ever in Costa Mesa and want to get all glammed up, I highly recommend Carina at Flawless Faces.  She worked magic on my hair and makeup!!
When Jasmine and I first spoke on the phone, she wanted to know if we had a location in mind. I told her that we weren't familiar with the area, and that we trusted her professional judgment, so she could choose. And boy am I glad she did! I couldn't have dreamed of a better setting for our photos. The colors, the backdrops, the fun murals, the cute little travel trailer. It was all eye candy, a photographer's total dream.
(I can't wait to blow this one up big on our wall!)
After the shoot, Tony said "Now I know why everyone loves her. She makes people feel like they're rock stars!" and he's right, she totally does. She's so full of positive energy, she could totally be one of those positivity coaches. But she's not all syrupy and fake or annoying.  She's 100% genuine throughout the whole process.
My #1 lesson in all this: When you feel like a rock star, you look like a rock star. So rock star it up, people!
Jasmine not only has crazy talent (there's no denying that she has a way with the camera and an incredible eye for composition), but her real power lies in her ability to  make a couple fall in love all over again in front of the camera. I kid you not, 2 minutes into the shoot I stepped up to Tony and felt this electric charge run up and down my body, like I was a giddy school girl. All that emotion you see in the pics? It was real! I felt like she was there but not there. She spoke and directed us to each new spot, but for the most part she just captured us being ourselves.
Case in point: Tony's expression in this next picture is JUST SO TONY.  And well, we all know I'm a goofball, so that comes as no surprise…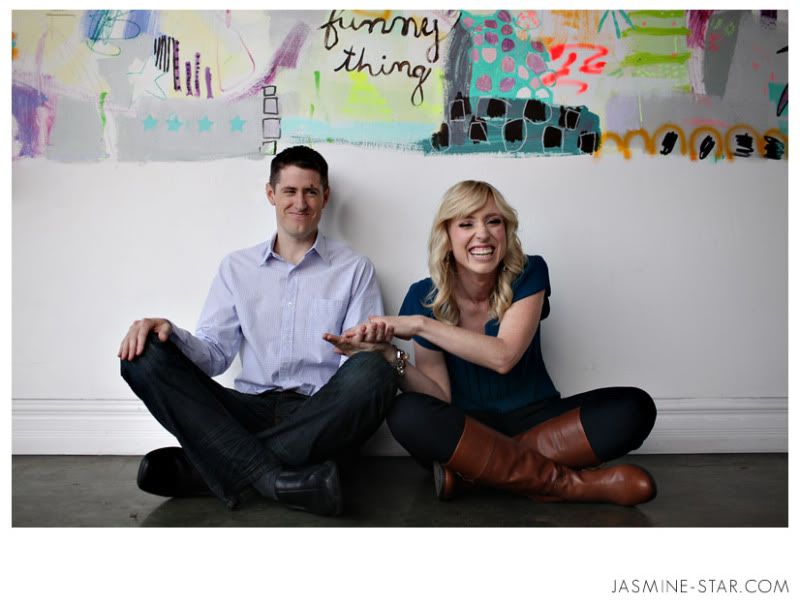 We both left the session with a little high. The photos are GREAT, but the experience is what sticks out in my head. I can only imagine how the wedding day will be!!
The best part? Jasmine gave me the gift of calm. I wish I had met her earlier on in the wedding planning process, because now that I know a true professional will be handling my wedding photos (and the general flow of the day), I don't have to worry at all. She'll be there, no matter what happens the pictures will be great, and really, why stress out about the details?
Thank you Jasmine, for putting a silly bridal brain at ease. And giving me my diva moment for the day. <3, Heather
Note: My blog's narrow column width does NOT do these photos justice. (I need to update the bloggity with a new theme. The width is driving me craaaazy!) You can head over to Jasmine's blog and see her post with full size photos over here and a slideshow of even more pictures over here.