The last two weeks have been a total blur. Here's a snippet:
Friday before last, I drove down to Tucson with Tony so he could ride 111 miles in El Tour de Tucson. He finished in 6 hours, 5 minutes! He did really well, considering he had to change a flat tire too!  I'm really proud of him
Hopefully I'll get to ride next year when I'm not busy planning a wedding.
Then on Saturday, I attended my own fall-themed bridal shower.  It was simply beautiful, my bridesmaids really outdid themselves. I am truly blessed.
On Sunday, I hosted a baby shower for my future SIL.  I chose a teacup theme, and made cute cupcakes with toppers that say "A Baby's Brewing." Because I'm an Amazon addict, I even picked up some of these cute silicone cupcake molds to bake my cupcakes in. I used this recipe to make pink lady cupcakes (I thought the pink was cute for a baby girl), and then topped them with swirls of vanilla bean cream cheese frosting. Wanna see?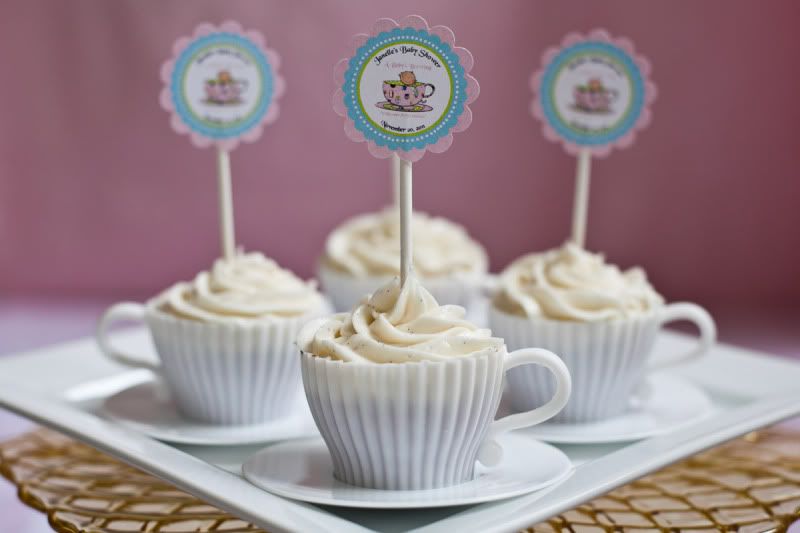 Then there was Thanksgiving, where we spent the day with my lovely family from Colorado (blondes rule! browns drool!). We also saw The Muppets with my little cousins. Two words. LOVED IT!
On Black Friday, I drove down with my sister to Newport Beach, CA, where we spent 2 1/2 days of non-stop shopping for bridal necessities and clothes for my engagement pictures. I did pick up some nice steals, like a pair of fabulous boots from Banana Republic for 40% off…that have already become a staple in my wardrobe, along with some skinny jeans that my sister insisted I try on…a trend that I swore I'd never be able to pull off, but apparently I can, and they are so dang comfortable that I now want to buy more!
Which brings me to Cyber Monday, where I actually did no cyber shopping whatsoever (gasp!).  Instead, Tony and I met our most awesome and amazing photographer for our engagement photo shoot in Costa Mesa. (more on that later)
Yesterday, Tony's niece Marie was born, and we got to meet her today for the first time. She's precious, and her big brother Mason already loves on her, it's so adorable.
Tomorrow I leave for a quick weekend trip to Vegas, for a couples getaway, so Tony and I can take a mini break from all the wedding planning. And just be. Together.
Whew.
Pssssssst. You want to know who won the giveaway? Lucky entry #10 was the winner — Congratulations to Andrea F! I'll be contacting you via email. Thanks for being a loyal reader!