I share the plight of every curvy woman out there — how to find the perfect pair of jeans that a) actually fits without showing crack when you bend over or sit down and b) accentuates your curves in the right way. No easy task.
I don't pretend to be a fashionista, but I do think that I know a thing or two about curvy girl jeans. I have, after all, been shopping for them for almost 15 years. Yikes.
I started out with Express jeans in high school (back in the day, I got them for $20 a pair!), then switched my loyalty to Seven for all Mankinds in college (I had to fit in with all the other ASU girls).  Then began my yo-yo years when I couldn't afford to buy designer jeans in every size to account for all my crazy size fluctuations, so I sought out a more wallet-friendly curvy jean. I found some okay deals at Nordstrom Rack.  They carry Sevens for $90 and Nordstrom's house brand for $30-$40, but I would often have to spend an additional $16 to hem the jeans and I was never 100% satisfied with the fit.  Then I found my beloved Arden B. jeans.
Arden B. jeans are normally a bargain at $59-$69 a pair, which I would gladly pay because I'd definitely get my money's worth out of them. But they often have sales for $40 each, or buy-one-get-one for $10. I have never spent more than $40 on a pair of Arden B's.   ($50 is my new cut-off for my everyday jeans, which believe it or not, is actually really really cheap for girl's jeans, unfortunately — this coming from a girl that used to fork over $150+ per pair).
And to be honest, I love my Arden B.'s even more than the $200 Sevens that I used to wear. Some Sevens make my butt look flat and smooshed, and they have an annoying habit of wearing thin in the crotch area. I have 2-3 pairs that have gigantic holes in the groin area, but they're so comfy from years of wear that I can't bring myself to toss them out. (Has anyone seen the Friends episode where Monica accuses the maid of stealing her favorite pair of jeans with the hole in the crotch? anyone?).  Who wants to pay $150+ and then have to pay EXTRA to have a tailor reinforce the crotch so they last longer than 1 or 2 years (yes this is what many women do)?  Sometimes I get desperate for a good looking pair of jeans, don't get me wrong, but that is just plain silly.
This all brings me to the awesome sale on denim at Arden B going on right now.  All denim is now $39. Shipping is 99¢ on all orders greater than $25 through 9/30.
Even better, you can go through this link to get $10 off a $50 purchase (it's from the 2012 Entertainment Book, valid through Dec 31, 2012.) FYI, the Entertainment Book normally has a physical $10 off $50 coupon that you can use in store as well (my favorite coupon out of the entire book!!)
I just picked up two pairs of my current favorite style – Charlie Boot Cut — for a grand whopping total of $74.48 after $10 coupon, tax, and shipping. That's $37.24 a pair.  Plus I earned 68 B.Rewarded points (you get a $20 Arden B. voucher for every 200 points, and you get 1 pt per dollar you spend).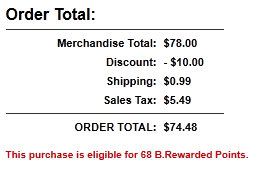 I currently own like ten pairs of Charlie boot cut, in sizes 10-14 (I told you I fluctuate, and those were all bought just this past year!). I'm one of those people that has no problem wearing the same style jean every single day to work (my poor co-workers).  It makes dressing in the morning a very easy process.
PS – Arden B doesn't know I exist. I get nada for this post.  Just one curvy girl expressing her love for denim.