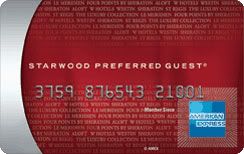 There is a new offer out for my all-time favorite everyday credit card, the Starwood Preferred Guest (SPG) American Express.
You'll get 10,000 SPG points for your first purchase, and 20,000 additional points if you spend $4500 in the first three months. (The normal offer is for 15,000 additional points after $15K of additional spend.) That is a total of 30,000 SPG points with no first year fee. This matches the biggest offer that SPG has ever done, which was last July.
This limited-time offer is good through August 10, 2011.
There is one catch however:  Presently, it is only available from a referral from those that got the email for the limited-time offer.  So if you want to sign up, you can contact me for a referral. I'll get 5,000 SPG points for each referral, so thank you!
This is the only card that I have paid the annual renewal fee ($65), and will gladly keep paying it. The annual fee is waived the first year, so if it's not the card for you, simply cancel it after the first year.
The Proof is in the Numbers
Tony and I used a total of 49,400 SPG points to pay for our hotel stays on our Italy vacation.  This saved us $1,580 in hotel costs. You can see the full spreadsheet here.
I have a very analytical fiance, who loves his REI Visa card.  He loves getting that REI dividend check every year, which to him means FREE outdoor equipment every March.  The problem is, his REI card only gives 1% back on general purchases (5% back on REI purchases).  It was very hard convincing him not to use his REI card for all non-REI purchases.
So I had to draw up spreadsheets showing that the SPG card makes more than 1% cash back in order to convince him to use the SPG card as his everyday credit card. The proof is in the numbers, guys.  On average, we had a cost avoidance of 3.2 cents per SPG point.  That's equivalent to 3.2% cash back on our credit card. You tell me a credit card that gives better than 3.2% cash back on ALL your everyday purchases.
You can actually get an even better deal per point, if you use the stay 4 nights get the 5th night free option, but unfortunately we had multiple places on our agenda so we couldn't take advantage of the 5th night free.
Our Favorite FREE Hotel Stays Courtesy of our SPG card
One more thing. Check out the awesome amazing hotel we got to stay in Venice for FREE, courtesy of our SPG card.  We stayed two nights in the Westin Europa & Regina, Venice which retails for $450/night. It was located only a 5 minute walk from St. Mark's Square.
And this is the beautiful hotel we stayed in for free in Kona, Hawaii.  We used the nights and flights option, so we spent 70,000 SPG pts to get 50,000 American Airlines miles and 5 nights free at the Sheraton Keauhou Bay Resort & Spa:
If you're interested in a referral, please contact me.  I truly am a satisfied card holder, and recommend this card from the bottom of my heart.