Ciao friends! I'm actually hanging out in the British Airways lounge at London Heathrow, enjoying the complimentary wi-fi while we wait for our next flight to Rome.  Tony is mastering key Italian numbers and phrases next to me.
I just had my first experience flying in business class on British Airways!! It was awesome!! Can you tell I'm eating this up?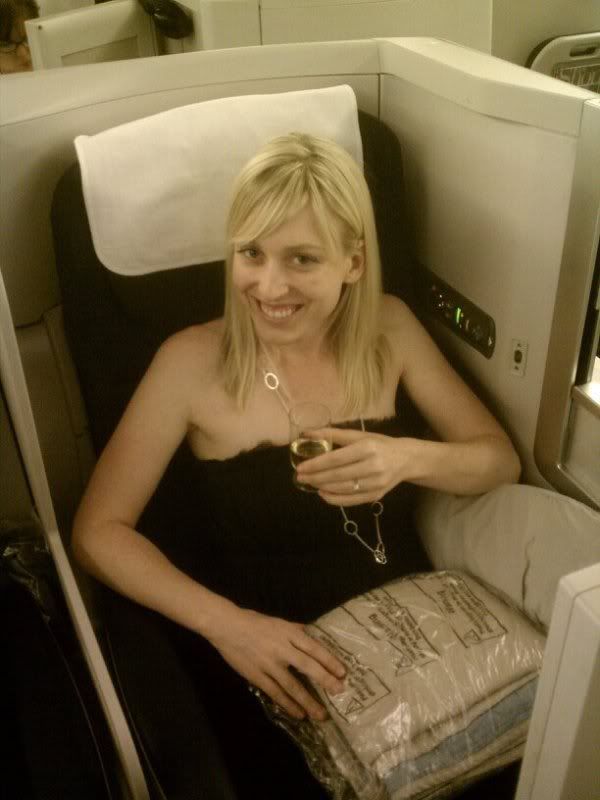 I've been super busy lately, and I probably won't have much internet access (or time for that matter) to post while on my vacation.  But I wanted to get the below post out to y'all, so everyone could get some free miles while the links are still working!

Thanks to Million Mile Secrets for pointing out that the Visa Business card offer is still working!  The offer is 75,000 miles with only a $1500 minimum spend in six months, similar to the personal Visa and Amex that Tony and I applied for awhile back. (The very same offer that gave us our FREE business class tickets to Italy!! It takes 100,000 miles per person to fly to Europe in business class.)
The "official" deadline for these offers has passed; however, the links are still working and there are several reports of people still getting approved for all three cards.
I applied for the Citi Business Visa on 6/8, and received my card in the mail on 6/16.  I was originally given a "your application requires further processing and you will be notified of our decision in a week" email.  I was anxiously checking my mail every day for a week until the card arrived.
 When I called to activate the card, I had the customer service rep verify that I would be receiving 75,000 miles once I met my minimum spend of $1500 in six months.
That means, all total, I'll have received 262,250 FREE American Advantage miles just from signing up for three credit cards and spending $1500 on each of them. Amazing.
Daraius also gives good tips on how to fill out a business credit card application. I always do a sole proprietorship with less than $600 income, since anything greater than this and you'd have to claim it with the IRS — and this little bloggy is not quite there yet.
 If you eBay on the side, or flip things on Craigslist, or make and sell baked goods, then you have yourself a sole proprietorship!
We tried signing Tony up for the business card, but his application was declined because "The credit report shows this business is too new to evaluate." Weirdly, I entered the same time in business on both of our applications, but only mine went through. Oh well, one out of two is better than nothing!
Hey familia, sign up for this card if you can while the link is still available!