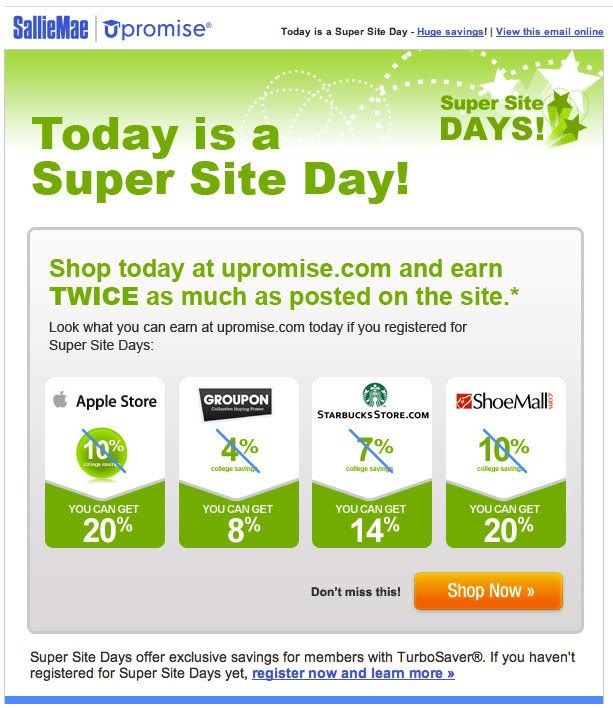 Whoa! Today only, you can get 20% cash back at the Apple store, if you shop through Upromise's TurboSaver toolbar. Normally, the most you can get from Apple is 1% cash back from other cash back sites.
Time to buy that iPad, iPhone, or Macbook you've been wanting!!
Here's how to get in on the deal:
1.  Log into your Upromise account.  (Join Upromise here if you're not already a member.)
2.  Download and install the Upromise TurboSaver toolbar.
3.  On the browser plug-in confirmation page, opt-in to Super Site Days for twice the college savings on Saturdays in May and June.
4.  Use the toolbar to shop at Apple Store.
5.  After you place your order, uninstall the toolbar. (Why?  Because toolbars are bad.  You don't want your activity tracked or your cashback potentially misdirected.)
The fine print: this doesn't apply to the iTunes store, just to Apple Store purchases.  Your order has to be placed before 11:59pm ET on 5/21/11.  Your reward will be deposited into your Upromise account by August 31st.  According to the Upromise president on Twitter, the 20% will come in pieces: 1% from Apple, 9% from Upromise promo, 10% from Upromise double promo. You can get an additional 3% cash back if you have the Upromise credit card, for a total of 23% cash back! You can request your cashback in the form of a check, or you can apply it toward an outstanding student loan or transfer it into a 529 college savings plan.
More info can be found at this Fatwallet thread.
Thanks CompareRewards.com!