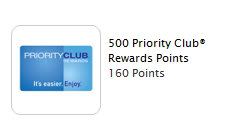 Right now,  you can get 500 Priority Club points on MyCokeRewards for only 160 MCR points. That's 1/10th of the points you need for a free one-night PointBreak redemption.
It'll also come in handy if US Airways does their Grand Slam promotion in 2011 again. I'm trying to bank as many hotel points as possible for that promo.
Unfortunately, there's a limit of one redemption per member per lifetime.