Look what I picked up for $10 this morning!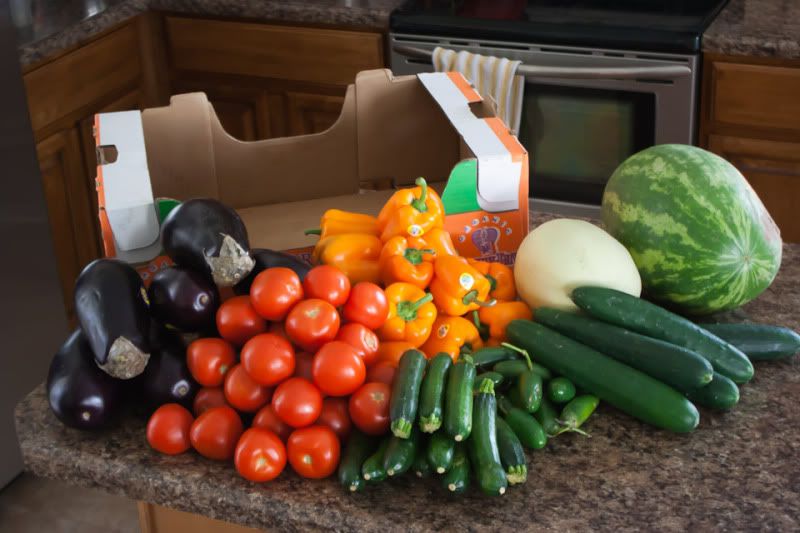 We went to the Market on the Move pickup location in Gilbert this morning. I had read good things about the program over at Bargain Believer, but this is the first time I've seen an event in the East Valley to try it out.
I wanted to show up early before the good produce was gone, so we got there at 7:30am.  But I didn't have to worry about that.  There was just SO MUCH PRODUCE, it was insane. There were still two gigantic truckloads of produce when we got there, and they were trying to dump entire boxes of produce in our box. We kept hearing over and over "Take more!"
We took a little bit of everything.  Our haul included: eggplants, tomatoes, jalapenos, cucumbers, zucchini, yellow bell peppers, honeydew melon, and watermelon. The selection apparently varies each week.
There was someone giving out raffle tickets, and then two small girls collecting the tickets as you stood in line. I'm supposing they used the tickets to count the number of people that came. You could bring your own laundry basket or crate, etc, or use the boxes they provided. Tony and I only took one box, but several were filling up two. There was no limit, you could take as much of the produce as you wanted (as much as you could eat without it spoiling, basically.)  At the very end, another very friendly lady stamped our hands with "God Loves You," but nowhere was there an explicit sign ever asking for a set amount of money. I offered the last lady we passed my $10, but it didn't even seem like she was expecting it.
Tony and I were overwhelmed by the generosity of it all.  Everyone kept thanking us for coming. Like we were the ones doing a good thing by saving this produce! The whole thing just seemed really too crazy to be true!!
Tony's sister went later and picked up two full boxes, and left them a $5 donation. Here's her pic (Thanks Janelle!)
Honestly, no one even asked me for money, and they were just so eager to keep the produce from spoiling.  I originally thought you had to fill up two huge boxes, and pay $10. But that didn't seem to be the case. There were no rules. I don't think they'd mind if you came and got a smaller amount and left a smaller donation, or no money at all if times are tight.  I was told the donations were used to cover the gas to bring it up from Tucson.
You could go and literally load up on 60 lbs of produce (like Bargain Believer's sister), and then split the produce up among other families or freeze it.
I cut up the bell peppers and jalapenos for eggs when we got back this morning. The bell peppers are a little shriveled on the outside, but the inside is just fine, and I plan on cutting the rest up and freezing them for future meals (eggs, curry, stir fries, etc). Tony loooooves bell peppers, and we would have paid almost $10 for those alone. (It hurts me every time I have to pay $1 for a single bell pepper in the store. Ouch.)
The tomatoes were in great shape, not smushy or mealy at all. The honeydew melon was still a little hard when I cut it up, I should have let it sit and ripen for a few days.
It actually makes me physically ill to think that all this produce was on its way to the landfill. What an amazing outreach program.
You can bookmark this link for upcoming events. When you go to the website, it indicates that the program is for the hungry and needy, but that's not the case at all. Feeding the hungry and needy for free is just a benefit of the program, but everyone is welcome to pick up produce on Saturdays!!  From what I saw, the event is really geared toward rescuing the produce from the landfill.  When we went, it was the same crowd you would expect to see at the grocery store, and we blended right in. I didn't feel awkward at all.
Hopefully they hold more events in the East Valley!