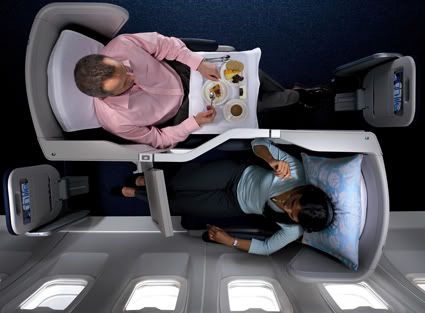 It's taken a bit of time for me to post about the latest and greatest credit card offer, the British Airways Visa Signature Card from Chase with the 100,000 miles sign-up bonus. You get 50,000 miles after your first purchase, and 50,000 miles after spending $2500 in the first 3 months. You also have the option of earning a free companion pass by spending $30,000 in one year.  The offer expires 5/6/11, so by the time this post goes up you'll only have 2 days left to apply.
I haven't applied for the card myself, but since I recently booked a reward trip on British Airways to Italy for this summer, I feel like I have a lot of insight on this particular offer, and the value of the miles you'll receive.
I normally only post credit card bonuses that I'm HIGHLY enthusiastic about (i.e. ones that I would apply for myself).  Like many others in the frugal travel community, I strongly feel that your credit is one of your most valuable assets. I have a >760 credit score, and I'm not going to sacrifice 5-6 points for just any old credit card bonus.
There has been SO much hype about this card, in particular, even more than the Citi AAdvantage and Capital One Venture cards, and I'd argue that those two were considerably better deals.  Just google the British Airways card, and you'll get all sorts of hits calling this "unheard of," or simply "the best."  You know why? People are probably getting paid to advertise this card, that weren't necessarily getting paid to advertise those others. I think you have to be critical of the source, and if you inspect the links on most other blogs, there is tracking info embedded in the application link for this card, while I never saw any tracking links in the Citi or Capital One mega offers.  The very same people who are touting this as the BEST credit card bonus EVER are probably getting a referral bonus of some sort (I have no affiliation with Chase or British Airways, and won't earn anything from this article).
With that being said, this is definitely a credit card sign up bonus worth considering, especially if you're a rookie and don't have too many credit cards or miles under your belt.
But since a few friends have already approached me, "Hey Heather, have you heard about that British Airways credit card with the 100,000 bonus?"  I figured I'd jot down my opinions on the card, in case others were interested.
Here's what I think about it:
The annual fee is a bummer. Unlike every other sign-up bonus out there, the annual fee isn't waived the first year for this card. Right off the bat, you're going to pay $95 if you are approved. Not enough to deter me, but it does reduce the value of your award.
Your reward ticket won't be completely FREE. Be prepared to pay taxes, especially if you fly on British Airways flights, who are renowned for their crazy high fuel surcharge fees.  When I booked a reward flight in business class to Italy for this June, I chose to fly Phoenix-London Heathrow-Rome on BA. I paid $376.80 in taxes per person, ~$300 of which was the outbound flight on BA.  I routed through Madrid on Iberia Airlines and thus avoided the BA fuel surcharge on the way back.  As a comparison, the last time I booked a reward flight to Hawaii on American Airlines, I only spent $10 per round-trip ticket in taxes. My recommendation: If you do sign up, use the miles to fly on a partner airline like American Airlines, Iberia, LAN, Qantas, or Cathay and avoid the hefty British fuel surcharge. You can save the most money in fuel surcharges by flying domestic on AA.
The free companion pass after $30K spend isn't completely FREE.  You can use your 100,000 miles to fly on partner airlines and avoid the heavy BA surcharges incurred while flying on British Airways flights. However, the companion pass REQUIRES you to fly on BA metal, thereby forcing you to pay $600-800 in fuel surcharges and taxes on a supposedly free companion pass (Not to mention, you have to work your butt off for it! $30K? That's a LOT of US Mint orders!) My recommendation: Sign up for the 100K bonus only, don't bother going for the companion pass unless you know you're going to fly BA in the next year. If you DO go for the companion pass, make sure to use it on business class to get the most bang for your buck.
Even MORE hidden fees: It's best, if possible, to book your award tickets online to avoid extra fees.  BA charges a $40 booking fee when you call in to book your award tickets. You could try sweet talking your way out of this one, but good luck.
Limited reward availability in domestic. When booking your domestic awards, they only let you book "MileSaaver" awards, which are relatively hard to come by. If you're trying to book a reward flight around any major holiday, you'd better book them the moment they're released (330 days out).
No foreign transaction fee. British Airways recently eliminated the 3% foreign transaction fees on this card, and several of its other cards.  Chase and Capital One are now the two leading card providers without those pesky foreign fees. (I personally switch to my no-annual-fee Capital One card for this reason when I travel abroad. Not worth paying $95 annual fee just to save 3%).
Pooling household accounts saves you money.  One perk of the British Airways accounts is that you can pool miles from up to 6 household members into a single account.  This certainly makes booking award tickets easier. It will also help you avoid multiple booking fees when you call in and place your order over the phone (so you should pay only $40 if you book two tickets from one account, vs $80 for booking two tickets using miles from two separate accounts.)
STOP OVERS! BA allows unlimited stopovers as long as you take the most direct route. You will have to call in to book any multi-city or stopover flights, which will incur the $40 booking fee.
This isn't the first time we've seen this offer. In Nov of 2009, and again in Feb 2010, Chase had the same exact bonus, with all the associated publicity. Will it come back next year? Who knows for sure? It's definitely not a "once in a lifetime, never to come back" bonus though. I was relieved when I hesitated last year, because it allowed my credit score to take a break for the even heftier bonuses that came later that year. Who knows, Chases's on-again-off-again tactic may be just another ploy to create more buzz.
BA online reward booking tool is not user-friendly. It's glitchy, slow, and doesn't work all the time. When it does work, you have to know what you're doing to get any useful information out of it.  And it will always choose a British Airways flight if it exists (routing you through London), if possible. It will only show partner airlines if that's the only available option, or you break them down into their individual segments that start or end at partner cities. Overall, it's better than the American Airlines online booking tool (you can't even look up partner airlines on their site), but it has a steep learning curve. It provides a good research tool, but I still think you would have to book most multi-city flights (and all stop-overs) over the phone. I intend to write another post detailing how to look up awards on the BA award booking site.
Club World (Business Class) is the best bang for your buck.  British Airways is known for their nice Club World experience. 100,000 miles can score you one round-trip from North America to Europe in business class, with priority check-in and boarding, first class lounges with showers and buffets, multi-course inflight meals, wifi, your own personal 10" television, power for your laptop, and lie-flat sleeper seats, etc. The cost of a round-trip ticket in business class would have cost me $4,235 if I purchased it. Instead, I paid $401 in taxes and fees. That's a $3,834 savings per ticket, at a final redemption value of 3.8 cents per mile.
Are you still with me? So, do you see why this deal isn't as good as the Citi AAdvantage deal?  With the Citi deal, you had the potential for applying for TWO cards, up to 200,000 in bonus miles, with no annual fees and fewer taxes. Now THAT was a sign-up bonus of my lifetime. So far.
This is a good deal, but not the BEST deal like everyone and their mother would have you believe. That's the power of paid advertising.
Bottom Line: If you want to fly two people for the cheapest out of pocket cost possible, then have one person sign up for the card and get the 100K bonus. Fly on partner airlines and avoid London Heathrow to avoid the British fuel surcharge. Best Savings: Cash in 100K for four domestic round-trip tickets on AA. Then cancel the cards and forget about the companion pass.  If you want a good deal, and don't mind spending $600+ per person for a luxury experience, then apply for two cards and use your miles to fly on British Airways business class for 100,000 miles each. You'll get the most bang for your buck, and get a much more enjoyable experience.
After all is said and done, with the BA card, you could potentially pay $95 annual fee + $40 booking fee x2 + $10 taxes x4 = $215 to redeem your miles for four domestic flights on American Airlines, or $95 + $40 + $600 = $735+ to redeem them on a single BA flight to Europe.
The official deadline to apply is Thursday night 5/5/11 at 11:59 EST.