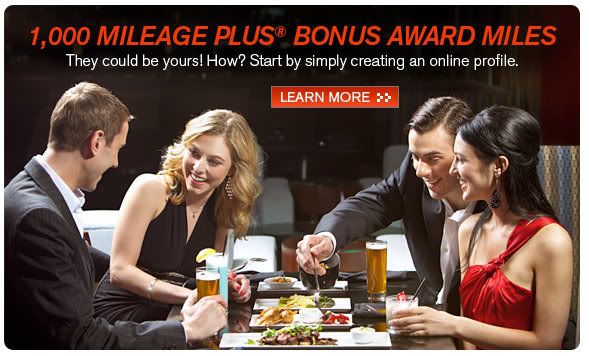 Through December 31, 2011, United Mileage Plus Dining is offering a 1,000 mile sign-up bonus if you spend $50 at a program restaurant within 30 days of registering for the bonus. For complete details on this offer, click here.
The required spend ($50 including tax and tip) is kind of high for everyday dining.  You have until 12/31 to sign up, so I'd wait and sign up until you know for sure that you're going to one of the program restaurants, and planning to spend that amount anyway.
I've had mixed luck with the United Mileage Dining Program posting my miles in a timely manner.
The first time, we ate at Red White and Brew on 6/1/2010, and the miles didn't post within the promised 5-10 days timeframe. I filed a missing rewards claim on 7/5/2010 and then was asked to submit a copy of my credit card statement to verify the dine, which I did on 8/5/2010. My miles from the dine and the 1K start bonus didn't post until 8/24/10. Bottom line: All miles eventually posted, but not without some legwork on my part.
Most recently, with Tony's account, we dined at Slo Foods Organic Cafe on 4/19/11, the miles posted a couple days later, and the 1,000 mile bonus posted on 4/24/11!! Super quick! Either there was a glitch in the system the first time around (maybe with that particular restaurant?), or they've sped up their system since then.
If you dine at the program restaurants anyway, you might as well sign up and take advantage of the 1,000 sign-up mile bonus. It's also a great way to top off your account with some miles if you're close-but-not-quite to an award, or to postpone the expiration of your miles, without actually flying.