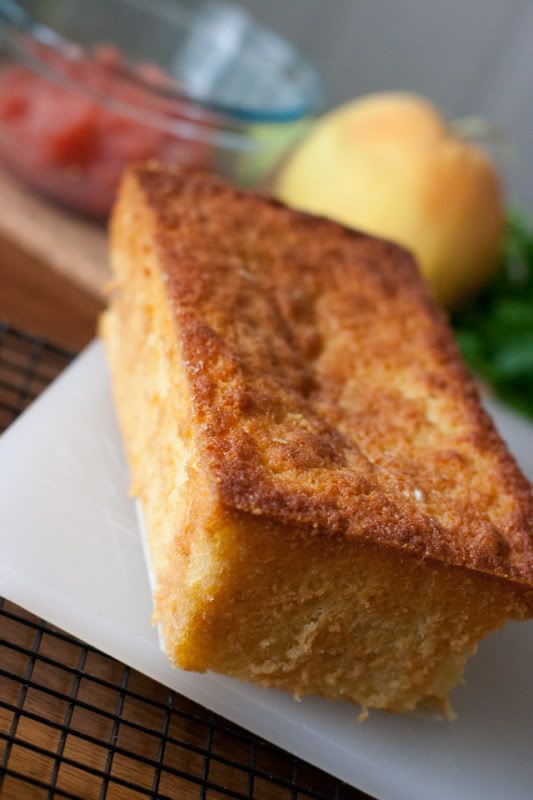 This winter, we didn't have quite the surplus of grapefruit that we had last year. We only filled up part of one bin:
In fact, I was a little disappointed at the output, after being spoiled with last year's bounty.  I've been told that some trees produce in every-other-year increments. Let's hope that's it. And that Tony "trimming" the trees down to little stumps last year has nothing to do with it.
I harvested the grapefruit in March this year, allowing them to get nice and large and ripe and absolutely bursting with flavor before picking them. I also figured out that we have a mixture of Ruby Red grapefruit and pink grapefruit.  Both varieties are delicious for eating straight, but the sweeter Ruby Reds lend themselves better to baking.
This time around I experimented with a few recipes, and we've found a winner folks!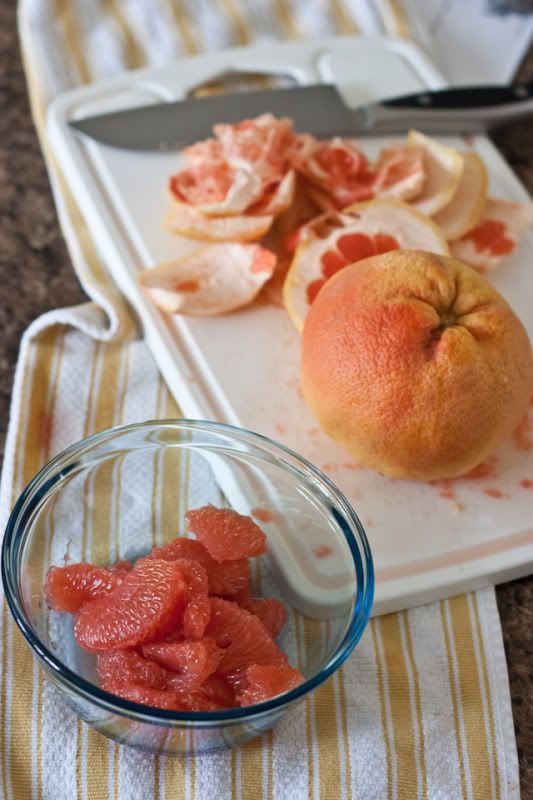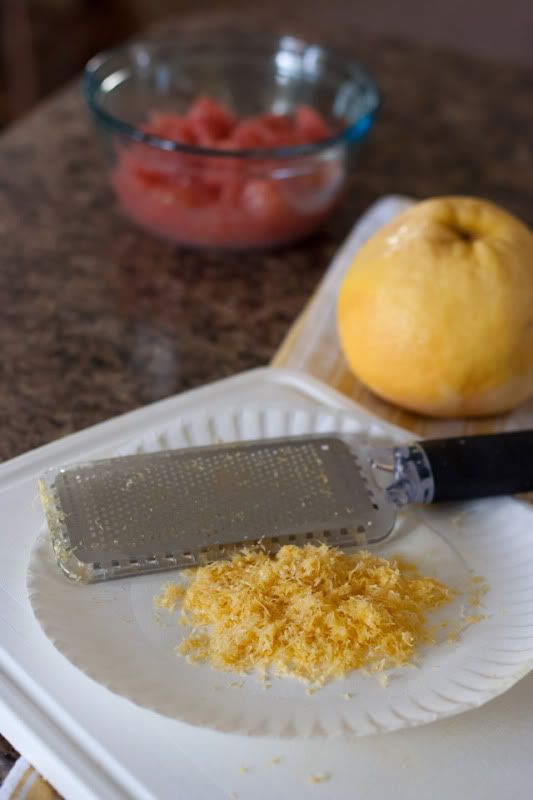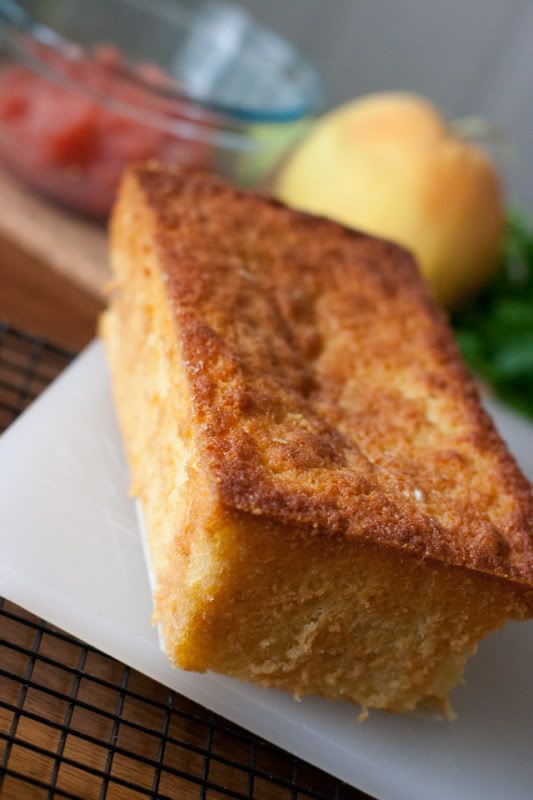 I first spotted the original recipe for this olive oil cake on Smitten Kitchen, which used blood oranges instead of grapefruit.  As soon as I saw it, I knew that the cake would provide the perfect platform for my beloved Ruby Reds.
One of my favorite uses for grapefruit segments is to throw together a quick summery citrus salad with an olive oil dressing, so the pairing of grapefruit and olive oil is quite natural, even enticing, to me.
Ruby Red Grapefruit Olive Oil Cake
Adapted from Smitten Kitchen
Ingredients
Non-stick spray for greasing pan
2 ruby red grapefruit
1 cup (200 grams or 7 ounces) sugar
1/2 cup (118 ml) buttermilk or plain yogurt
3 large eggs
2/3 cup (156 ml) extra virgin olive oil
1 3/4 cups (219 grams or 7 3/4 ounces) all-purpose flour
1 1/2 teaspoons (8 grams) baking powder
1/4 teaspoon baking soda
1/4 teaspoon salt
Honey-grapefruit compote, for serving (optional, below)
Whipped cream, for serving (optional)
Instructions
Preheat oven to 350 degrees. Spray a 9-by-5-inch loaf pan with non-stick spray. Line the bottom of the pan with a piece of parchment paper, cut to size. Grate zest from 1 grapefruit (roughly 2 Tbsp worth) and place in a bowl with sugar. Using your fingers, rub ingredients together until grapefruit zest is evenly distributed in sugar.
Supreme a grapefruit: Cut off bottom and top so fruit is exposed and grapefruit can stand upright on a cutting board. Cut away peel and pith, following curve of fruit with your knife. Cut grapefruit segments out of their connective membranes; you should have about 1 cup of segments. Finely chop the segments with a knife and set aside.
Halve remaining grapefruit and squeeze approx. 1/4 cup juice into a measuring cup. Add buttermilk or yogurt to juice until you have 2/3 cup liquid altogether. Pour mixture into bowl with sugar and whisk well. Whisk in eggs and olive oil.
In another bowl, whisk together flour, baking powder, baking soda and salt. Gently stir dry ingredients into wet ones. Fold in pieces of grapefruit segments (drain the segments before adding if they are juicy). Pour batter into prepared pan.
Bake cake for 50 to 55 minutes, or until it is golden and a knife inserted into center comes out clean. Cool on a rack for 5 minutes, then unmold and cool to room temperature right-side up. Serve with whipped cream and honey-grapefruit compote (below), if desired.
Honey-Grapefruit Compote: Supreme 1 more ruby red grapefruit according to directions above. Drizzle in 1 to 2 teaspoons honey. Let sit for 5 minutes, then stir gently.
Heather's Notes
The flavor in this cake is subtly sweet and sophisticated. It's suitable for a casual snack, or with the honey-grapefruit compote, it's a very impressive company dessert.  It easily tops my list of favorite citrus recipes, and I'm so lucky to have the star ingredient in my backyard!  I can't wait for next year's harvest!
The first time I baked this cake, I used large pieces of segments from two whole grapefruit (easily 2 cups worth), and threw in the juice that had collected for good measure. The more grapefruit flavor, the better, right? HA! This made for an overflowing, soggy, sunken in the middle, catastrophe. The grapefruit segments were large, shredded by hand, and they had all sunken to the bottom and even worse, stuck to the bottom of the pan (I didn't use parchment paper the first time).  The second time around, I used significantly fewer segments and chopped them up more finely with a knife, then drained them through a strainer before adding them to the batter.  I was so paranoid, that I dredged them in the flour mixture, to hopefully prevent them from sinking — which may have been overkill on my part. I think chopping them finely and draining them is the key.
The second time, I also measured the ingredients by weight (using my digital scale), not volume. I don't think I used enough flour the first time just using measuring cups. The batter was far less soupy the second time, so I did something right.  I'll be using weight measurements for this recipe from now on, since they are more reproducible. Plus, any reason to use my scale makes me happy!
It's so prettttttty.
Last, but not least, the second time I attempted this recipe, I made two different versions — one with grapefruit segments, and one without.  The one without the pieces of grapefruit were a tad dry (although nothing a little compote and whipped cream couldn't fix).  The one with the segments was beautiful, with the little ruby jewels peeking out of every slice.  Not only are they pretty, but they provide a little surprise burst of sweet juicy flavor in your mouth whenever you bite into them. I will always be adding them in the future.
This is also freezer friendly, making it a great do-ahead recipe for when company drops by.  After taste testing, I wrapped both loaves in tinfoil and then placed in a ziplock bags, and pulled them out a day ahead of when I wanted to use them — and they were muy fabuloso.  Just make the compote/whipped cream the day you plan on serving them.
I served it with fresh whipped cream (I use this recipe) — and seriously, it just elevates it to another level.  I'm sitting here moaning in delight looking at the pictures. Someday I want to try baking these in cupcake form!