Zaycon Foods is coming back to AZ with another chicken event on March 18th & 19th! This time they're making a stop in Mesa and Tucson, which is great news for all my Tucson friends!
Just like last time, they're selling 40-lb boxes of  boneless, skinless chicken breasts.  The chicken is 100% natural, fresh, NOT frozen, with no added hormones, additives or artificial ingredients.
The first time around, they sold the chicken for $1.49/lb.  This time they are selling the chicken for $1.61/lb, which is still an incredible deal.  You end up paying $64.40 for 40lbs of chicken.  It comes in a box with four separate 10lb bags.
You have to place your orders by March 16th.  Don't delay, reserve yours NOW if you want some! Last time they sold out several days ahead of time. Once they sell an entire truckload, they have to stop taking orders.
Here's the pick-up information: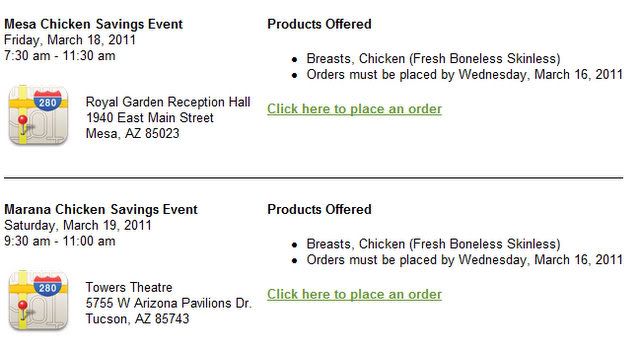 I'll put up my review of our experience the last time Zaycon came to town, with full pictures.  I was actually surprised at how quick & painless the pick-up process was. You just drive up, tell them your name, they check you off the list, then they put the box in your back seat and you drive off! You never have to get out of your car.
It took Tony and I about an hour to trim all the breasts, and then I spent a couple hours chopping, prepping, sealing, and freezing. It was exhausting, but oh so worth it. I love having chicken all prepped and ready for all my weeknight meals!
The chicken breasts were huge and moist and succulent.  Here's a picture of a stuffed Zaycon chicken breast that I took (it tasted as good as it looks!)
We still have quite a bit of chicken from the last sales event, but don't miss out if you're running low (or didn't stock up the first time!)  Who knows what the price will be next time.
Click HERE to register, or login if you're already a customer, and place your order for the upcoming event!