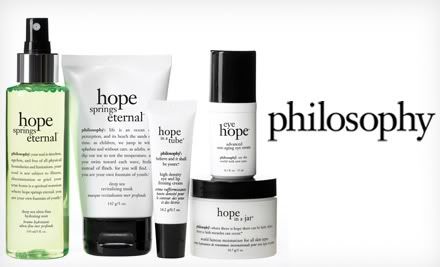 Just in case you missed today's deal for Phoenix – it's a pretty good one for all you Philosophy lovers.  You can get a $50 voucher for only $25, plus a complimentary facial peel. The voucher is for in-store only (Mesa and Chandler locations). The voucher is good through July 1, 2011. There's a limit of 2 vouchers per person, but you're only allowed to use 1 per visit.
I used this Groupon last year to purchase Mother's Day gifts. It's nice that the expiration is a month longer this time around, and they have a higher purchase limit.
Here's one idea for an ultra-fab Philosophy gift: You can go into the store, use one Groupon to pick out a few items, put it in a pretty basket and then insert another Groupon as a gift so the recipient can go pick out some products on their own. That way, you're not violating the "one Groupon per visit" rule, and they're getting $100 worth of product for only $50 out of your pocket!!!!
If you go through Mr. Rebates to purchase your Groupon,  you'll get an extra $1.50 back in cash back per voucher!