I used to volunteer every year at the West of Western, which is the predecessor to Devoured.  The West of Western was an annual culinary festival bringing together some of the most renowned chefs in Arizona. It used to be my favorite cultural event in Phoenix. I'd seriously look forward to it all year.
I haven't been to Devoured since the culinary festival changed sponsors (and names) in 2010, but most of the same vendors are lined up, and it's at the same venue (Phoenix Art Museum), so I imagine it's pretty much the same experience. Which is to say, it's a must-do event.
The price, for one, has improved. In 2009, a Food & Wine one-day pass to the West of Western cost $85 at the gate. Now, one day tickets to Devoured are $69 at the door, and you have to be 21+ to get in, since the food and drink booths are intermingled.  You can get a $10 discount for purchasing your tickets in advance at ProTix. You can also get a two-day ticket for $90 through March 11, which is almost the same price as a single day pass to the West of Western in 2009!
I'm glad the price has gone down, so that more people are inclined to attend. I used to volunteer on Saturday, and get a free day pass for Sunday, which was a huge savings for my grad student budget. It was a lot of work; I remember working my butt off all day long, setting up all the tables, and being a runner throughout the day for all the vendors. OMG, the food was soooo amazing, and I'd eat so much, that I'd have to lay down on a bench until the wave of nausea passed and I could walk again.
The food, as I mentioned, is outstanding. Some of my favorite vendors include: Kai Restaurant, Talavera, Barrio Cafe, and Tammy Coe Cakes.  The best part, for me, is that you get to sample food from five-star restaurants that you normally may not be able to afford. Different restaurants go on different days, so you should look at the lineup to decide which day you would prefer (Kai is my favorite vendor, so I'm inclined to go on Sunday, but in the past I liked more of the tastings on Saturday. It's a tough choice. I tried to talk Tony into both days, but he's just not having it. Sigh.) To help with your decision, check out past reviews of the 2010 Devoured event: day one (here and here) and day two (here).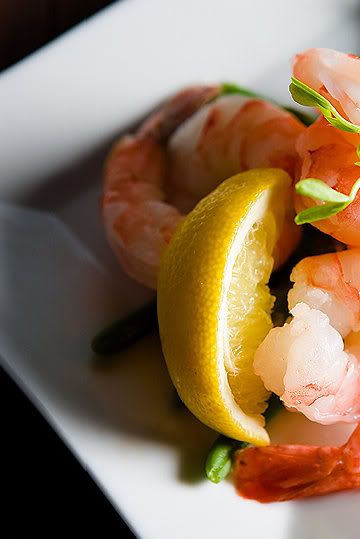 The drinks are also in abundance. In years past, I would eat so much that I could barely enjoy the glass of wine I'd try to force down after touring all the food booths.  Now it sounds like the wine and food booths are intermixed, which should help with my pacing.  The beverages in the past ranged from different wines to iced teas and various coffees to margaritas and vodka drinks. Looks like there's beer (from Four Peaks!) this year as well.  The beer is a nice selling point for our male friends to come along.
In addition to enjoying all this great food and drink, your tickets to Devoured also gets you general admission to the Phoenix Art Museum (a $10 value; free on Wednesdays). So, if you're actually able to walk after all that food and drink, then you can check out the art exhibits as well.
In short, this is the one "don't miss event of the year" for all you AZ foodies (and believe me, non foodies enjoy it too). It's also a great way to support your local community.
I just have one piece of advice: Come hungry and thirsty. You might want to wear elastic pants if you have 'em.
Devoured Phoenix Culinary Classic
March 12 & 13, 2011
11 am – 4 pm
Phoenix Art Museum
McDowell Road & Central Avenue
1625 N. Central Avenue
Phoenix, AZ 85004