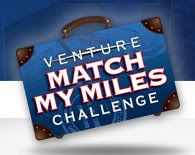 Tony and I got the magical emails this morning, stating that our Venture cards have shipped and we could log in to claim our miles using our unique 16 digit code. I had to wait until I got to work to convert our frequent flier statement to a PDF file so I could register to claim the miles.  Note, you can fax or snail mail it too, but obviously uploading a PDF would be quickest.
This MP thread confirms that several people have already had their miles matched by just submitting a frequent flier account statement.
Now I'm just anxiously awaiting the "Your miles are reserved" email. Oh yeah, and I have to actually get the card in the mail and spend $1,000 in the first 3 months.
If you applied for the Capital One venture card, make sure to check your inbox and reserve your miles as soon as you get the "Ready to Match Your Miles?" email! It's first come, first served, so once the billion miles are claimed they won't be matching anymore.