Can you handle another stuffed chicken recipe?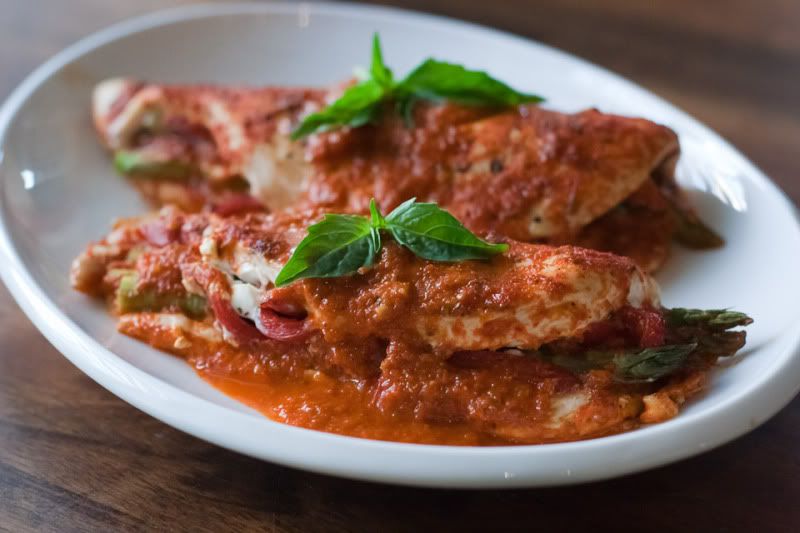 This was adapted from a Clean Eating recipe, which originally called for roasting your own red peppers. You can buy a jar of roasted peppers from the grocery store and save yourself an hour's worth of work!
Stuffed Chicken with Spicy Roasted Red Pepper Sauce
Adapted from Clean Eating magazine
Ingredients
3 jarred Roasted Red Peppers
1 Tbsp Olive Oil
1 Tbsp Balsamic Vinegar
1 cup chicken broth
2-3 cloves garlic, minced
1/2 Jalapeno Pepper, seeded and minced
1/2 tsp oregano (or italian seasoning of choice)
sea salt and ground pepper to taste
2 boneless skinless chicken breasts
2 Tbsp goat cheese (I love Trader Joe's goat's milk creamy cheese)
8 asparagus spears, trimmed
Instructions
Preheat oven to 400º.
Slice 1 roasted red pepper into strips lengthwise.
Place 2 roasted red peppers into blender with oil, vinegar, broth, garlic, and jalapeño. Blend into a purée. Pour into a small sauce pan; add oregano, salt, and pepper; cook over medium low heat for 10 min.
Meanwhile, cut each chicken breast almost in half horizontally. Spread 1 Tbsp of goat cheese onto each breast. Add the asparagus spears and roasted pepper strips and fold the breasts back together.
Place the chicken breasts in a casserole dish and pour about 1/2 cup of the red pepper sauce over the top.
Bake for 35-40 min.
Serve with additional red pepper sauce drizzled on top.
Heather's Notes
You can make the sauce ahead of time and refrigerate/freeze for a quick weeknight meal. Tony wasn't as much of a fan of the filling on this one (he picked out the asparagus and left them for me), but he did like the sauce.  I think the sauce could have been spicier, so will probably throw in a whole jalapeno next time. Oh, and I'd probably throw in some fresh basil too.
It certainly makes a pretty presentation, and would be a nice healthy meal to serve to guests. We served it with wild rice on the side. Gotta love the 2 minute pre-cooked rice from TJ's!