There's been a lot of buzz in blogland about the stackable diaper codes on Amazon, and I was itching to participate.  I mean,  absolutely FREE diapers? Who knows when that'll happen again.  I asked Tony if I should stock up on free diapers, and to my surprise, he said "Go for it!"
So this morning I went and picked up some free magazines with 20% off codes from BRU, and I picked up a Fit Pregnancy magazine with a $10 off code from Target.
Here are the three coupons: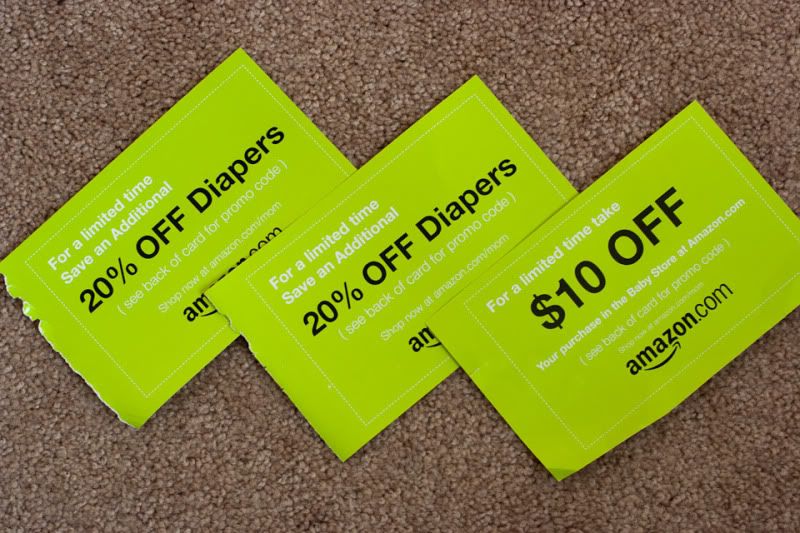 Then, because I'm not yet a mom, I signed my mother up for an Amazon Mom membership and used her account to get 30% off diapers by selecting Subscribe & Save delivery.  I always select 6 months, so I have plenty of time to cancel, and then after the diapers are delivered I'll just go in and cancel the Subscribe & Save subscription.
Note: If you're a mom, dad, or other caregiver of a child, and you haven't signed up for Amazon Mom membership, you should! It's free to sign up, and you get FREE 2-day shipping with an Amazon Prime for 3 months.  The free 2-day shipping is extended by a month for every order over $25 you make in the Baby store, up to a year.  Although the Amazon Mom program is geared towards caregivers of young children (with the 30% discount on diapers & wipes), it doesn't matter how old your kids are.
Here's the transaction I did:
Huggies Little Snugglers, size 2, 144-ct $32.75
-30% Amazon Mom + Subscribe & Save Discount: -$9.65
-$10 Amazon Baby coupon (found in Feb/Mar '11 Fit Pregnancy): -$10.00
-20% off YT Code (found in Feb '11 Baby Talk): -$6.55
-20% off YJ Code (found in Feb '11 American Baby) : -$6.55
Total before tax: $0.00
Tax: $0.00
Grand Total: $0.00
Basically, any diapers under ~$33 will be FREE.  I've included a screenshot of my order below, so you can see how the math worked out.
In order to get two 20% off coupons to stack, you have to use one YJ code and one YT code.  The YT code can be found in Baby Talk magazines, and the YJ codes can be found in American Baby magazines. When I stopped by the BRU that is 5 mins down the street from me, there were literally hundreds of both of these magazines, all with codes of them.
The $10 Amazon code is a little more elusive. KC goes into detail where to find them in this post.
All the Baby Talk magazines and American Baby magazines that I checked at my BRU only had 20% off codes, no $10 codes.  So I went ahead and picked up a Fit Pregnancy magazine for $5.95 at my Target (across the street from BRU, how convenient) — I had a leftover Target gift card and didn't want to spend too much time hunting one down. The Fit Pregnancy magazines are plastic wrapped, so there's no way to get the code without opening the plastic. There's also a B&N in that same shopping center, I should have checked there for some $10 codes…
One more note on the Amazon codes:  Each YT, YJ, or $10 off code is only good ONCE. Once you have used that particular code, it cannot be used again on any account.  Additionally, each type of code is only good once per account. This means that you can only use one YT, one YJ, and one $10 off code per account. You CAN, though, stack all three codes and use them in the same order.
Anyway, this was fun! I think I'll "borrow" some more Amazon accounts and order a few more packages. I like this free diaper high