Right now, Mamapedia has a 1-yr Parents' magazine subscription for $5, and new members can get a $5 sign-up bonus, making their subscription absolutely FREE! You can also use this to extend your current subscription a year for FREE!
Now pay attention, because this deal requires two things:
You have to be a new Mamapedia member.
You must clear your cookies on your browser. It's important you do this to get the $5 sign-up bonus. Here's a hint for all Google Chrome users: Open a new browser, then click on the wrench icon in the upper right and select "New incognito window." This opens up a new browser without any cookies! Neat, huh? Tony showed me this trick, and it's made my life sooooo much easier! (It allows me to test deals like this for y'all!)
Okay, so here's how to get your FREE Parent's subscription:
Clear all your cookies and open a new browser.  Or, alternatively, open an incognito window in Google Chrome.
Go to this link. If you've cleared your cookies properly, you should see the screen below with the $5 bonus clearly referenced. If you don't, close your browser and clean your cookies, then start again.
(See that nifty little guy in the upper left? That means I'm incognito, man!)
Enter your email address and click "Get Deal Alerts." You should now see the screen below: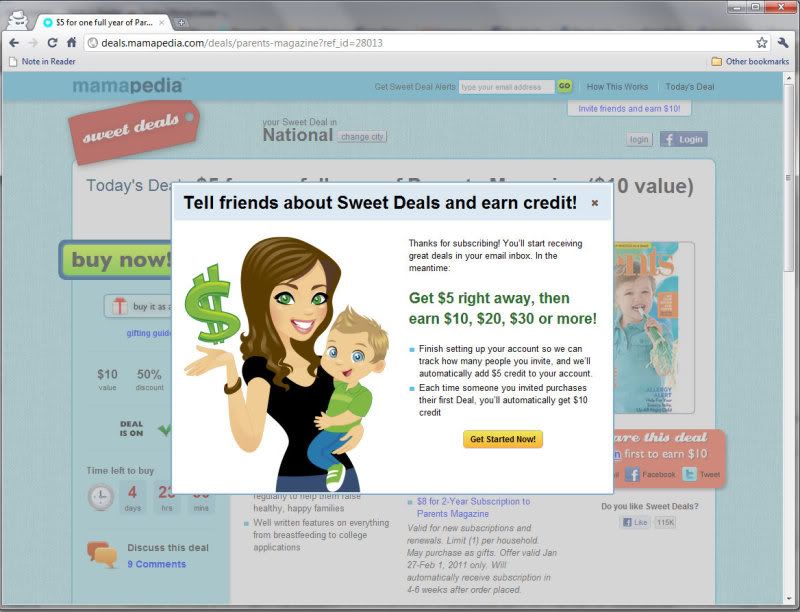 Click "Get Started Now." You will see the screenshot below:
Enter your information and click "Sign Up." You should now see a $5 credit in your account.
Now click the green "Buy Now" next to the $5 Parents' subscription.
Check the box next to "Apply $5 in credit."
You should see the credit applied and your balance should be $0, like the screen below.
That's it! Now check out (you will have to enter your cc info but won't get charged anything), and you're done.