Dearest Tony,
Happy 2nd anniversary, baby!  In all the hustle and bustle of the holidays and our engagement and life in general, we didn't really exchange cards (we both actually forgot! eek!). But I just wanted to let you know – I love you, and I love our life together. It's taken me a couple of days to piece together this post, so it's a bit late. But, as I've learned, all good things are worth the wait.
It's hard to believe that it's been two years since our first date. Let's revisit some of our major milestones, shall we?
There was that fateful hiking trip where we struck up conversation, and you proceeded to stalk me on work IM and then ask me out. This is also the only pic I can find with proof of your scruffy homeless man beard! (I must have been really infatuated to not mention it once the whole time we dated, until after you decided to shave it off — boy was I so relieved!)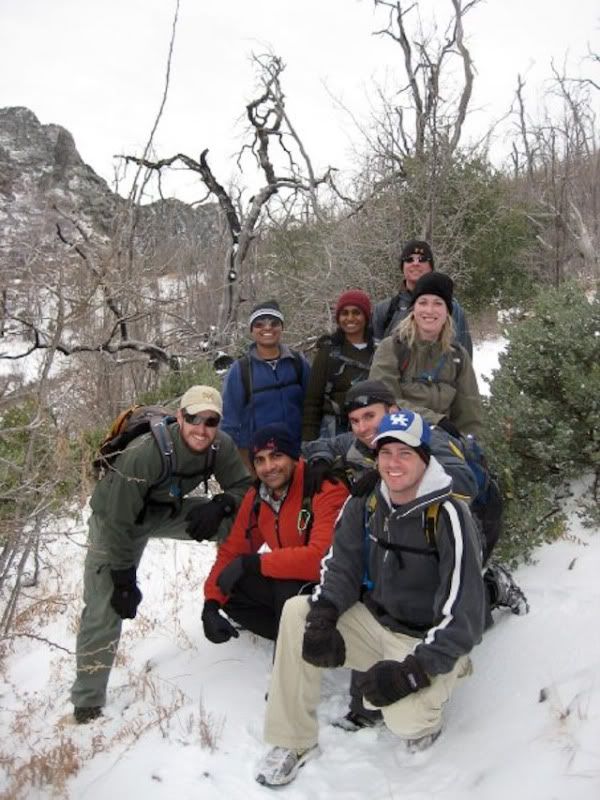 Then you took me on our first date to Red Lobster, on December 30, 2008.  The best part is, neither of us really like Red Lobster, but we didn't learn that until much much later. We only went there because you had, ahem, a gift card. And that's all that we'll say about the gift card! You originally asked me out on the 29th, except I had to turn you down, because I had a nail appointment (honest!).  In your habitual punctuality, you arrived so early you had to circle around my house for a good twenty minutes — and me, in my habitual LATENESS, was still in a bubble bath trying to calm my nerves when you called
  I only wish I took a picture documenting that night. Or better yet, a video showing how we each dealt with our nervousness – me with my non-stop chatter and you with your inability to get a word in edgewise.
Things picked up quickly, as I introduced you to my parents not long after. My parents took this as a casual meeting of "yet another one of Heather's friends" — little did they know how excited I was to bring you home  as potentially the one. Yup, I knew even then that you were different.
In those early days, we did lots of bonding over hiking. You see, I had set this insane goal of hiking the Rim to Rim to Rim in the Grand Canyon with my co-workers in May. And even though you had done this very same hike the year before (and had no intention of ever doing it again), you sorta kinda fell in love with me (admit it!) and wanted to spend every waking hour with me. So you got your butt out of bed at 6am every Saturday, and you trained along with me on my crazy hiking regime for three months.
On top of Squaw Peak in February, during our "Seven Peaks in one day":
On the Superstition Ridgeline, with Weaver's Needle behind us:
And of course there was the food poisoning incident, where you and the rest of the gang tried to kill me with food from a shady 24/7 Mexican joint in Fountain Hills after our hike to Mazatzal Peak.  You and I spent FIVE hours in the urgent care waiting room, just to get that dang IV!
At last, the time came and we did it! We completed the Rim to Rim to Rim, aka "Death March," a total of 44 miles in 23 hours. I accomplished the most physically and mentally challenging feat I've ever tackled, and checked a life goal off my list — and I did it with you by my side.  You stuck with me to the end, and helped me through those last tough, hallucinatory miles. This was the last picture we took, back at the top of the trailhead, after 23 hours of exhaustion: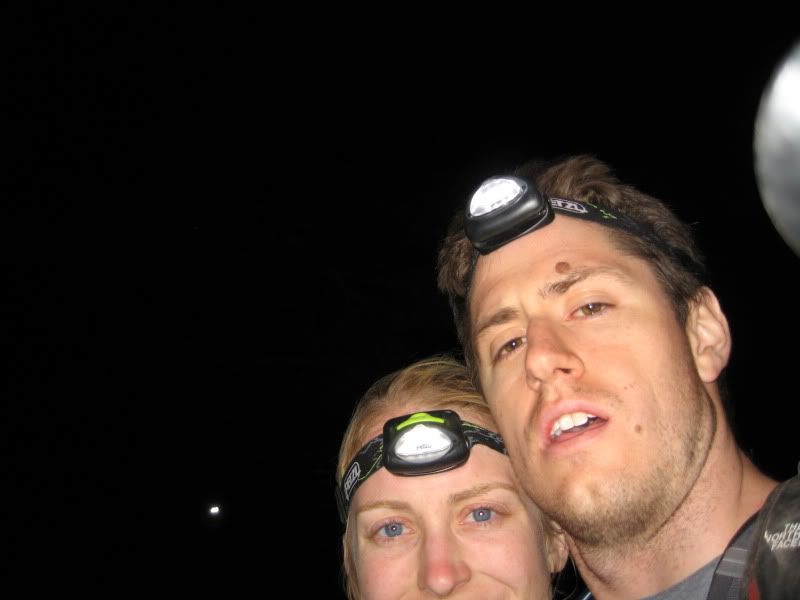 That same month, I graduated with my masters and started my first full-time job.
Then you helped me pick out my first house — which has pretty much always been our house in my mind (and not just because you paid rent!). I'm looking forward to tackling future house projects now, as a team.
My dad's 50th birthday celebration in Camp Verde, where we took one of my favorite photos to date:
You were there for my first sky dive in Eloy, Arizona: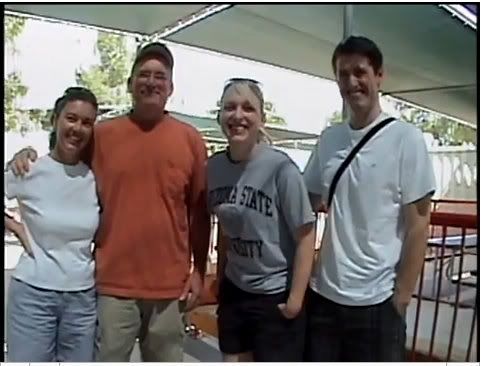 There was our trip to Oregon, and my first "cruise" with your parents on the Willamette:
While in Oregon, we visited my grandparents and hiked the dunes (I love your Indiana Jones look):
Our first Thanksgiving together:
And our first Christmas together: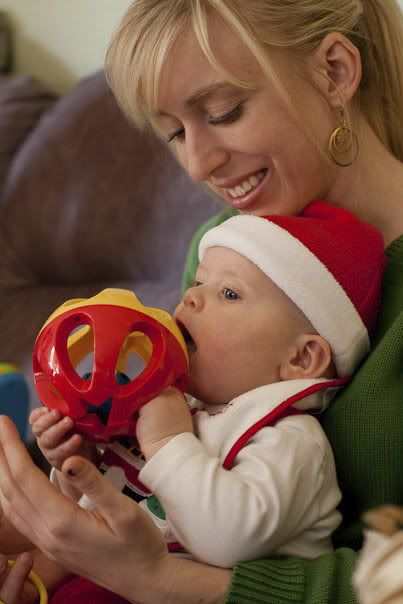 2010 was the year of travel for us. We went to many, many places together.
We started the year with a bang, with an impromptu anniversary road trip to one of my all-time favorite places, Zion National Park: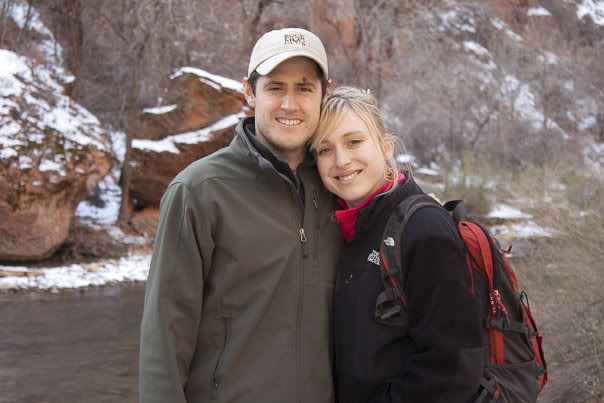 Then St. George, Utah in February to test your new wheels:
In April, we visited Vulture Mine not once, but twice: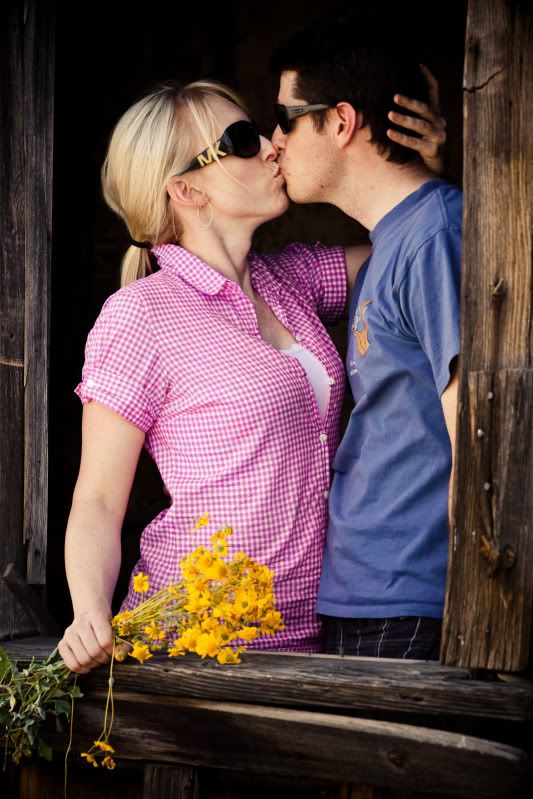 Then we took a weekend trip to Tucson, AZ with my parents, where we (unsuccessfully) went looking for Deadman Cave, visited Saguaro National Park, and you tried your first Sonoran hot dog at El Guero Canelo:
Boston in May, where you picked up your cool dude shades. I had to coax you to come with me on a work trip, and I'm so glad you did!
Durango, Colorado on Memorial Day weekend to hang with the cousins: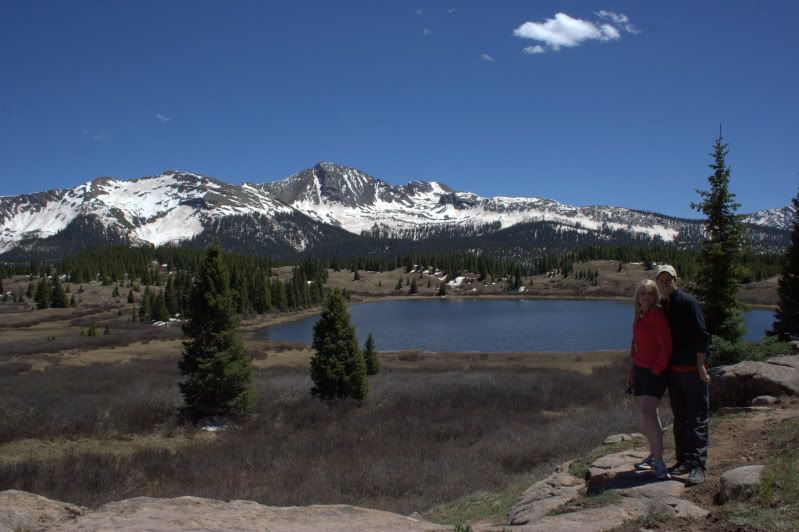 On the way back we stopped at Monument Valley, AZ: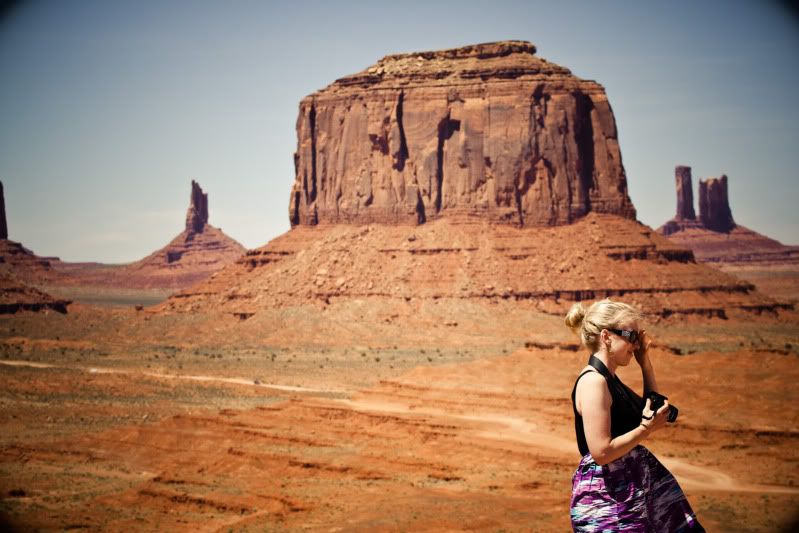 And then Durango, again, for July 4th — my sister's first, and probably last (HA) road trip with us: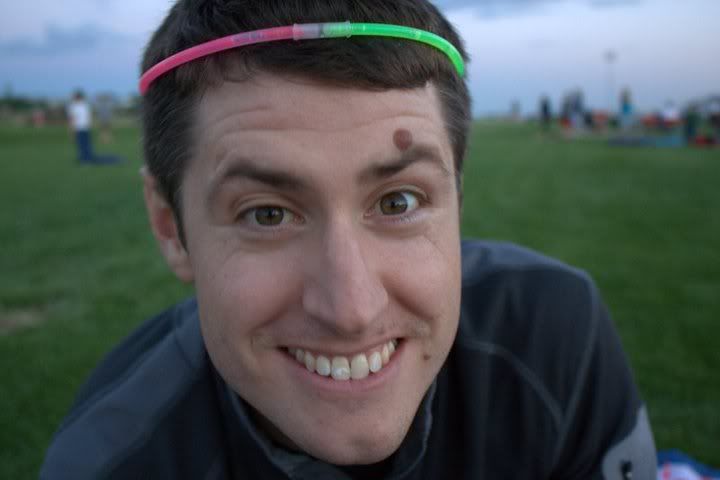 On the way back we made an unintentional detour into the wilderness, with the infamous flat tire:
Mason's 1st Birthday in Glendora, CA: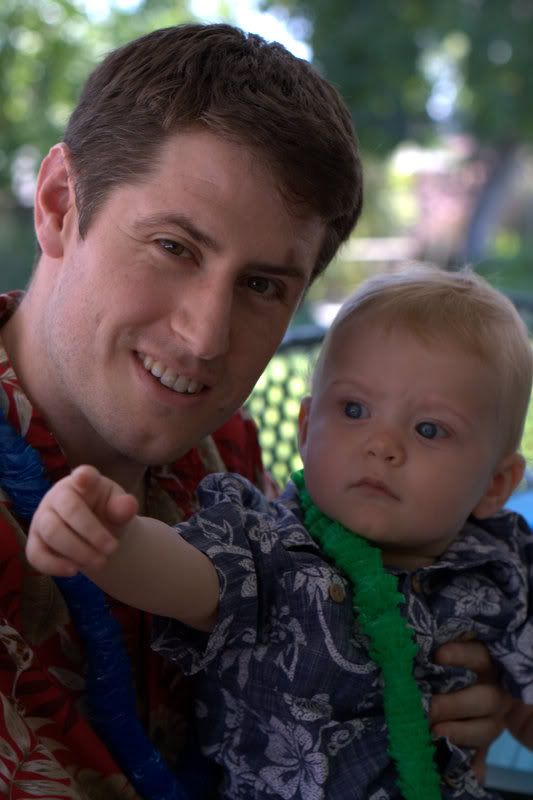 Boulder, Colorado in August: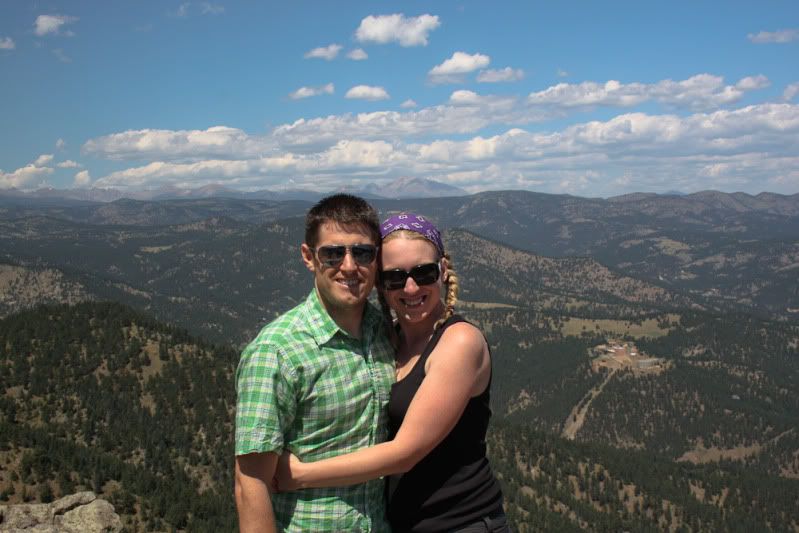 The cabin in September with your sister's family (picture taken while hiking Kinder Crossing Trail):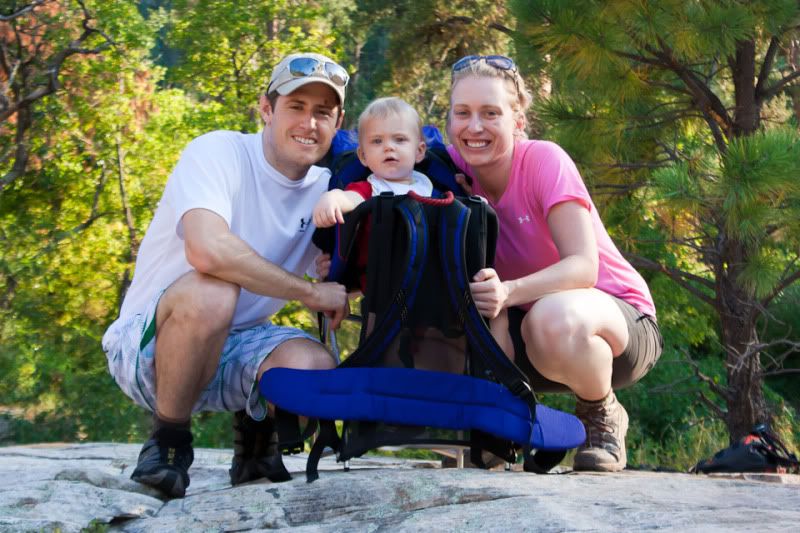 There was the big kahuna in November — our free trip to Kona, Hawaii, thanks to credit card bonuses and the US Mint:
A weekend getaway to Prescott, AZ:
And lastly, our recent trip to Vegas (a free trip thanks to a price mistake on Expedia).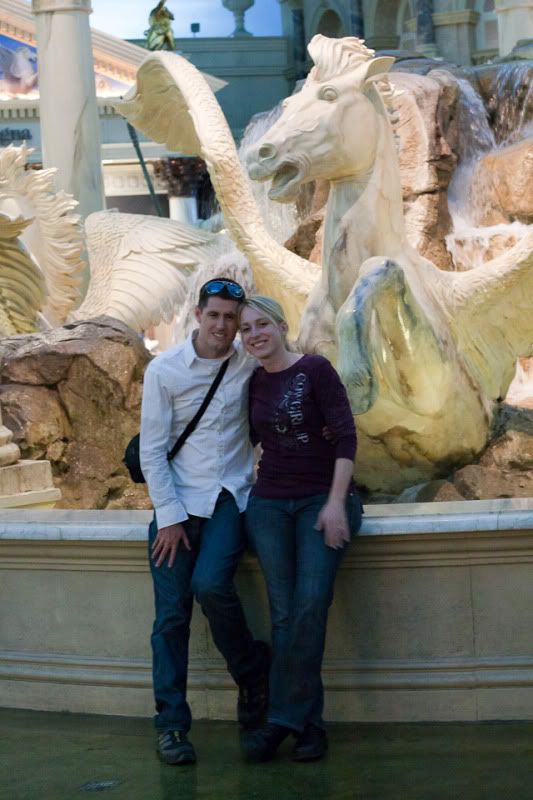 One of my favorite photos from 2010, taken on Thanksgiving (two days after our engagement):
And with your coaxing, the melding of our families on Christmas day.
It's been a whirlwind of a two years. I had fun looking over all the pictures and reliving our memories. But most of all, I look forward to our life together and the memories we have yet to make.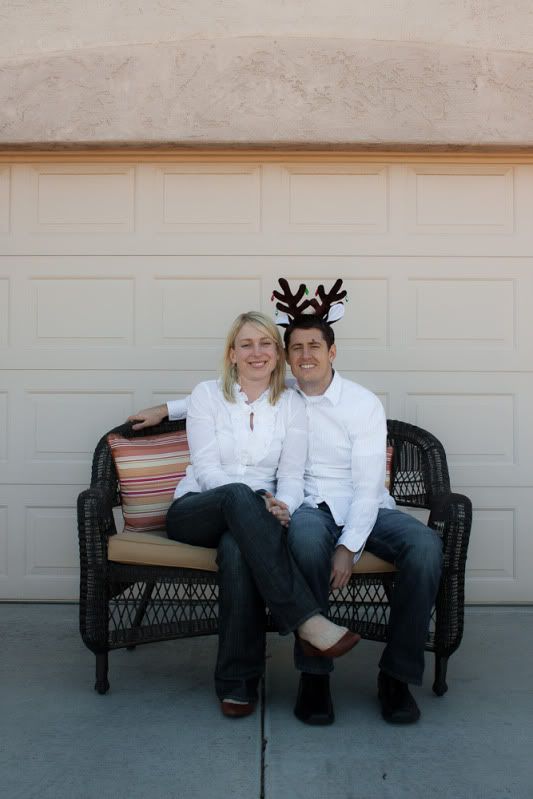 All my love,
Heather