One of my morning rituals (to help me wake up and get the brain activity flowing) involves getting on my computer and scanning my RSS feed. Often, this involves seeing a really good deal that got posted overnight that I really can't pass up…
{I'm sure I can't be the only one?}
So, without further ado, today's early morning purchase is the Oxo Good Grips Medium Cookie Scoop, which is on sale for $6.99 through Amazon and eligible for Prime shipping. It normally retails for $14.50.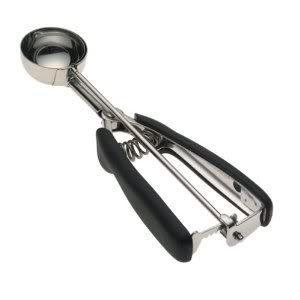 Each scoop measures 1 1/2 tablespoons, and because I'm anal, I went and measured my broken cookie scooper — the one I still stubbornly use even though it's a major PITA because the little metal thing pops out of place almost every other scoop. That one measures 1 1/2 tablespoons too!  Now I can finally replace that dang thing!
I have no idea what brand my previous one was, but I trust Oxo to make a more durable scoop.