Tax Deadline: December 31, 2010
Don't forget, the deadline for tax-deductible contributions for Arizonans is Dec. 31st!
You might want to top off your 529 before the end of the year, if you itemize your taxes and you haven't contributed the maximum deductible amount.  For Arizonans, the 529 plan deduction is limited to $750 per year for an individual taxpayer, and $1,500 per year for a married couple filing jointly.
Any taxpayer who contributes to a 529 account can claim the deduction, including grandparents, other relatives or family friends.  Arizona is a tax-parity state, so we can receive tax deductions regardless of whether we choose an in-state plan or not.
Ohio CollegeAdvantage $25 Matching Contribution Offer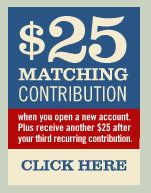 Through Dec 31st, you can open a new Ohio CollegeAdvantage 529 account, and earn a FREE $25 matching contribution. And, as an added bonus, you can earn another $25 when you sign up for recurring EFT or payroll deduction during the enrollment process, and make a minimum of three deposits. The promotion code, PLAN, will automatically populate on the enrollment application when you apply online.
If you have yet to birth a child (like me), you can choose yourself or another family member as the beneficiary, and then fill out a Change of Beneficiary form in the future.  Tony and I both have accounts at Ohio CollegeAdvantage in our names.
We were thinking of opening a new account for our nephew for Christmas, so that he could get the $25 matching credit, but in the end we didn't want to manage yet another account.  So we just added our contribution to his parents' existing account. I still get the tax deduction either way. 
Top 5 Ranked College-Savings Plan
In their 2010 report, Morningstar once again ranked Ohio's CollegeAdvantage 529 direct plan as one of the top five college-savings plans in the nation.