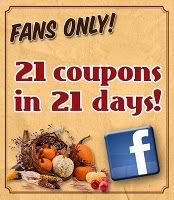 Starting today, Sprouts is offering 21 coupons in 21 days on their Facebook page.
First you have to "like" Sprouts, then you'll be able to see their fans-only "Offer" tab. Check in daily through Nov 21st for new coupons to be revealed.
Today's coupon is not that exciting — $1 off one dozen Sprouts cookies, valid through 11/7/10.
Who else wants to see some high value, say $5 off $30 type coupons?