A friendly reminder to SAVE MORE MOOLAH: As you shop online this holiday season, don't forget to go through Mr. Rebates!!  New members get a $5 sign-up bonus!
Black Friday is coming up, and I know I'm not the only one that takes advantage of online deals and steals — all from the quiet sanctity of my own home.
Don't forget to click through Mr. Rebates for all your purchases!!
I first started using Mr. Rebates earnestly last December, and I've become a *huge* fan of the site since then. I can honestly say that Mr. Rebates is by far my favorite cashback earning website, and I've used a ton over the years. I only wish I paid attention to them sooner!
Their everyday cashback rates are usually better than all of the other shopping sites, and they're always doing some kind of promotion to increase their cashback rates.  Right now, many stores are offering extra cashback in the Countdown to Christmas Savings – for example, Sephora is now at 9% cashback (was 5%)!
Mr. Rebates is the most customer-friendly business I've ever dealt with. Honestly. Every service request I submit is answered quickly and professionally. Craig Cassata, the president of Mr. Rebates, is the nicest guy — I sent him an email once, and he responded near instantly! I was super shocked, but also pleasantly surprised that he would take the time out to respond so quickly. It's not everyday that I chat back and forth with company CEO's.
The payment process at Mr. Rebates is also a breeze. You have the option of requesting payment through Paypal, or paper checks in the mail. Also, Mr. Rebates must eat any Paypal fees they get charged, because they don't pass any onto us! When you request payment through Paypal, you get the exact amount you request (unlike BigCrumbs, who charges a 2% processing fee up to $1).
Since seeing is believing, here ya go. I cashed out my account for the very first time on October 20th, and received this in my PayPal account on Nov 1st: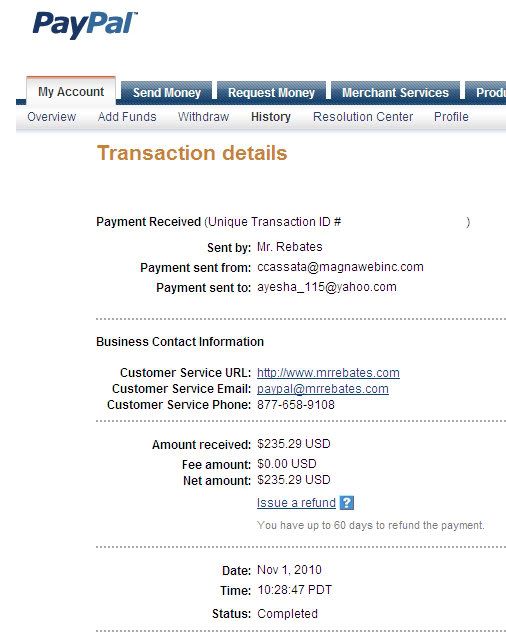 Get Your Own Big Fat Check!
If you're interested in racking up your own cashback savings (and a $5 sign-up bonus), please join Mr. Rebates here (my referral link; thanks)!