How's everyone's Saturday going? I attempted to go on an early bike ride this morning and froze my tookus off.  I guess the cooler weather kind of snuck up on me.
Right now I'm just kickin' back — it feels good to not be going, going, going. I plan on relaxing, baking some key lime cheesecake bars (yum!), and catching up on work, blog posts, and house chores. Plus some studying. Grrrr.  The highlight will be going to my friend Jacob's wedding tomorrow – on 10/10/10!
Speaking of weddings, look what came in the mail yesterday: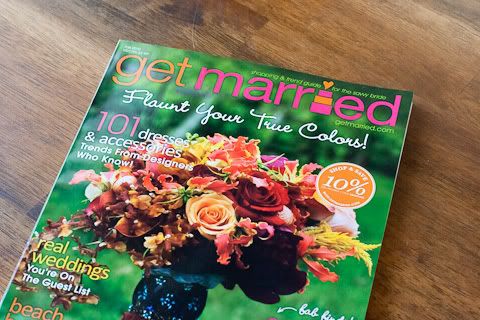 Tony went and got the mail and in his somewhat stern voice said "Heather…..what is this?!?!" I saw it and cracked up.  The universe must be sending subliminal messages. He doesn't believe me that I didn't order it! I swear, we also get "Outdoor" magazine, and we've been getting it forever, and I never signed up for that either! hehe.
To all my Ca and AZ friends, sign up here for a free Anthony's pasta coupon. I don't believe I've tried this brand, but I will now!