Thanks to everyone that entered the giveaway! The winner is: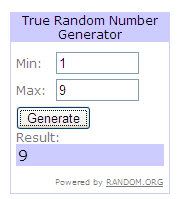 Lucky #9!  Kaylan, you can now stock up the bar without breaking the bank! Congrats! I'll be contacting you via email so I can get these off in the mail.
Thanks to everyone else that entered! Wish I had more rebates, I'll keep my eyes peeled. Meanwhile, I have noticed you can pick them up pretty cheaply on eBay right now. There's 4 rebates left here, for $1.25 each, which isn't too bad for $60 in free liquor.