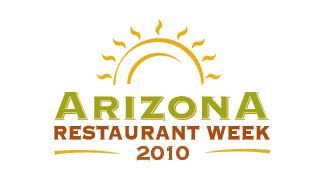 It's that time of year again! The 3rd Annual Arizona Restaurant Week kicks off this Saturday, September 18th and goes through Sunday, September 26th. Each participating restaurant will offer a three-course dinner menu of signature dishes for $19, $29 or $39 per person, excluding beverages, tax and gratuity.
Click here for a list of participating restaurants in Phoenix.
Click here for a list of participating restaurants in Tucson.
There are a few differences this year. It used to be that all restaurants had a $29 per person price point. Some of the more expensive restaurants have upped the price to $39 per person (denoted by three dollar signs on the restaurant list.) Also, this year there are quite a few restaurants in Tucson that have a $19 per person price point.  That kinda stinks that there aren't any cheaper Phx options.
There are two Phoenix restaurants this year with gluten-free options on the restaurant week menu. Also, look for a wine glass icon next to a restaurant listing denoting the inclusion of a beverage within their price point — there seem to be a few more including beverages this year.
Last year Tony and I got all glammed up and went to Bourbon Steak, a modern steakhouse at The Fairmont Scottsdale Princess Resort. The duck fat fries were face rockin' good, and my Kobe steak was cooked to perfection. We ordered a bottle of wine and something else that made our final bill quite pricey — but I can honestly say it was one of my best dates ever.  <3
Normally I'm super excited about Restaurant Week, but we've been going out an awful lot lately so the excitement isn't really there.  With work being nutso, I've had less time to cook, and our pocketbooks and my waistline have suffered for it. I'd like to put a halt on the eating out + expenditures, but something tells me that I'll probably check out at least one restaurant during ARW.
Uh oh. I just found this awesome foodie blog with previews of some of the Restaurant Week specials. Of course, the one that stands out is LON's at the Hermosa, one of the $39 per person places.  D'oh. You can see their review of Bourbon Steak, the restaurant we went to last year, here. It makes me want to go back! I seriously need to try that berry parfait with frozen Fage yogurt!
Okay, totally off topic, but I can't stop reading that blog. Thanks to them I now want to participate in the Chef du Jour program at Talavera. I want to cook with chefs in my very own chef jacket!  It would be like my very own Hell's Kitchen experience! But not for $550