What they say about mint growing like a weed, is absolutely 100% true. The previous owners planted some mint at the base of our trees in the backyard, and to say that we have a bountiful mint crop would be a gross understatement. It's spread to the surrounding grass, and no matter how much you yank out, even more will grow back in its place! I love having fresh mint available, but I STRONGLY recommend planting mint in its own separate container, so it can't spread and crowd out everything else. 
Here's Tony washing some of our mint bounty: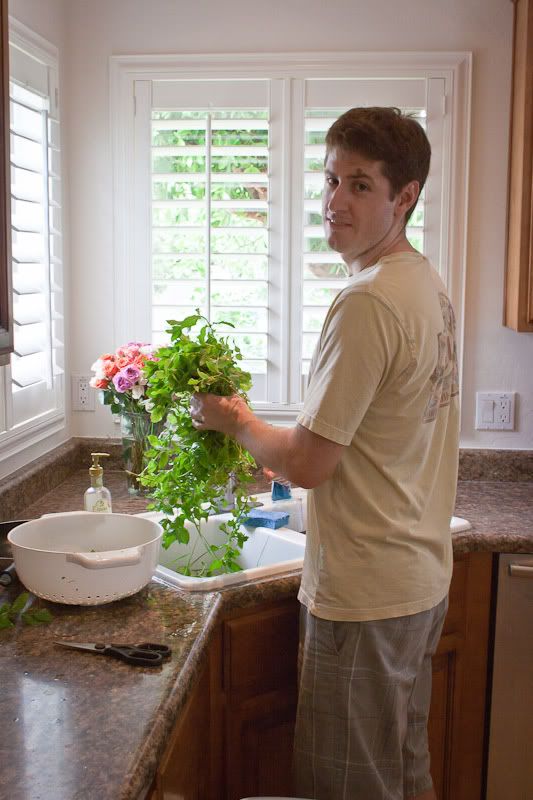 This summer, we've discovered how refreshing mint water can be. But aside from mint water and mojitos (yum!), we had no idea what to do with all our mint! So I went searching for some recipes, and came across this light, summery sorbet.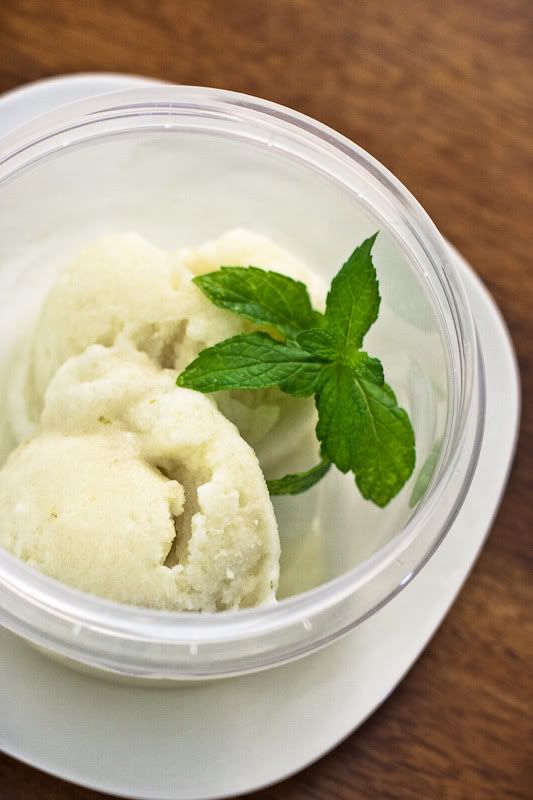 Fresh Mint Leaf and Lime Sorbet
Adapted from Eating for IBS
Makes 6-8 servings (About 1 quart)
2 cups water
2 cups granulated sugar
3 cups packed fresh mint leaves, washed, dried and chopped
1 cup fresh lime juice (about 7-8 limes)
1 tablespoon grated lime zest
2 egg whites*
Make a mint syrup by combining mint leaves, sugar, and water in a small saucepan.  Heat and stir until sugar dissolves, bring to a boil and simmer 2 minutes. Let cool enough to handle. Strain syrup, pressing hard on solids and discarding mint leaves. Add syrup and remaining ingredients in blender, mixing well on high speed.  Chill mixture completely, then freeze in ice cream maker according to manufacturer's instructions. Transfer to an airtight container and store in freezer to harden for an additional two or more hours.
*If salmonella is a concern in your area, you can substitute pasteurized egg whites, available in the dairy section of most grocery stores (such as Egg Beaters).
Heather's notes: I *really* liked the flavor of this. It's so light and fresh and summery. I also like how the ingredients are all simple and readily available (no need to run to the store for special ingredients). But, this recipe requires a whole lot of effort for a relatively small amount of sorbet. And it disappears quickly when Tony's around! The washing, the separating, the cutting, the heating, the straining is all a pain. Next time, I'd probably make a much larger batch of the simple syrup so I can make multiple batches of sorbet. You could also use leftover syrup to sweeten iced tea or lemonade. If I was more industrious, I would can the syrup so I could enjoy it all year long.
Also, I found the sorbet didn't thicken up, unless I got the mixture REALLY cold before adding it to the ice cream maker. I actually stuck the blender jar in the freezer for a good 1/2 hour or so first. I found that the lime zest sunk to the bottom of the blender and then ended up in clumps in the final product, so make sure to stir thoroughly before pouring the mixture into your ice cream maker.  Lastly, it might be fun to add a few drops of green food coloring, just to make it more "limey" looking.

Because I didn't have any elegant crystal glasses, I opted for my teeny tiny cookie scoop and a shot glass. I think the final presentation is pretty cute, don't you?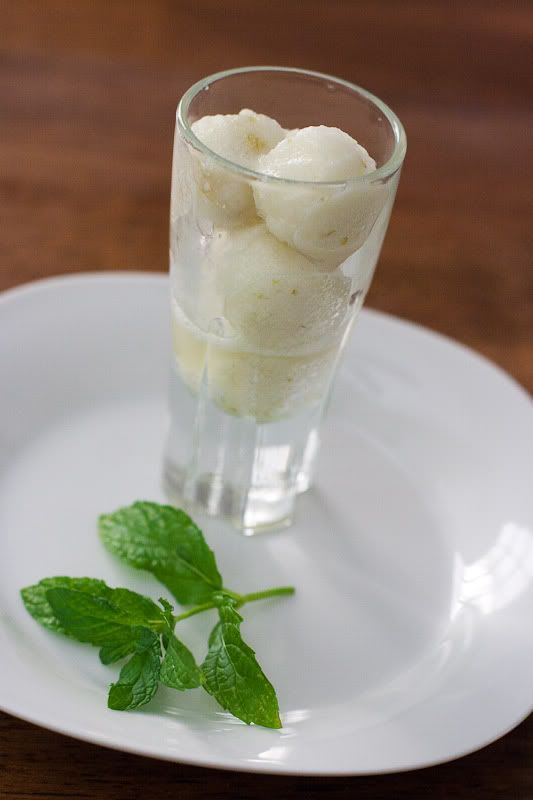 Thanks to Janelle for letting me borrow her ice cream maker — next up, PW's blackberry ice cream, yum yum!