Seriously, I couldn't put enough HOT's in that title!!!
I have yet to write a post about it, but the BIG vacation I alluded to over here? Well, I'm in the process of booking it. For absolutely FREE.  This is big, guys – so far it's the best deal I've ever gotten. Yeah, it's big. We're talking a ~$2500 vacation for free.
Why am I bringing it up now? Well, this FREE vacation was made possible by my all-time favorite credit card, the Starwood American Express.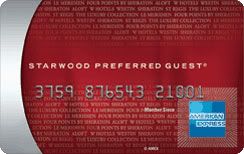 Up to now, the ongoing sign-up offer was 10,000 points at sign-up and another 15,000 points if you spent $15,000 within six months of getting the card.  Tony and I both signed up for the card, and we have been working hard to reach that $15K spend. We've done it, but I know most average folks would have a hard time spending $15,000 in 6 months on their own. Let alone signing up their spouse for their own card, and spending $30K total.
But guess what?!?!?!
Now, American Express is offering  30,000 Starpoints after spending just $1000 within 3 months.  This is amazing, people!!  I think spending $1K over 3 months is pretty feasible for most folks.
Now, the best part is that Starwood allows points to be transferred between any two accounts at the same residential mailing address. So Tony and I were able to combine our points for a ROCKIN' VACATION.
What will your points get you?? Here are my three favorite redemption options:
Flights: 20,000 points can be redeemed for 25,000 frequent flyer miles of your choice. 25,000 miles will get you a free round trip domestic ticket on most airlines.
Free Nights: You can use points to pay in full for free nights at the Starwood chain of hotels — as an example, a $110 night stay at a Sheraton may cost you 7,000 Starwood points.
Cash & Points: This is my favorite option, because you get the most value out of your points. Depending on the option and the hotel, the price varies, but as an example: 2800 points + $45 for a $110 room.
Time is Running Out…
The offer says it expires July 6, so definitely jump on this now.
I get absolutely nothing for your sign-up – I'm just passing on the best deal on the best credit card I've ever had in my wallet. 
There is a $45 annual fee, but it's waived the first year – so you're free to cancel the card after a year if you want. But you probably won't want to!! By my calculations, you can get 2-7% cash back on ALL YOUR EVERYDAY purchases with this card.  If you like to travel, this is the best card to have in your credit card arsenal. Period.
Sign up now.  And sign up your spouse/significant other/etc.  You'll thank me later.