There's another rebate out called "60 Second Cocktails," which makes for some VERY CHEAP liquor.  I found the rebate hanging around Bacardi bottles at my local Fry's.  It looks like this: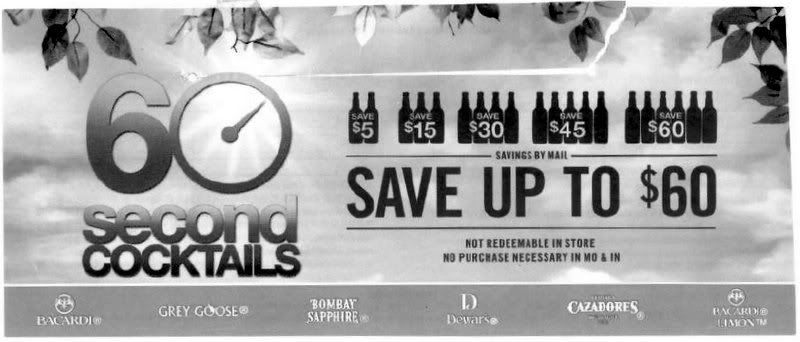 You have to purchase 750ml or larger bottles of participating spirits: House of Bacardi Rums, House of Bacardi Flavored Rums, House of Grey Goose Vodka and Flavored Vodkas, House of Bombay Gin, House of Dewar's Blended Scotch Whiskies or House of Tequila Cazadores.
The details:
Save $5 when you purchase 2 bottles
Save $15 when you purchase 3 bottles
Save $30 when you purchase 4 bottles
Save $45 when you purchase 5 bottles
Save $60 when you purchase 6 bottles
The rebate expires 9/15/10, so you have plenty of time to hunt down a rebate and/or look for rum on sale. Note, you have to write down the UPC symbol of each product on the receipt.
The best deal is to purchase 6 bottles of Bacardi, since it's the cheapest liquor on the rebate. The best price I found was at Total Wine & More ( Their AZ locations are in Gilbert, Glendale, Tempe, Tucson, and Phoenix). Their everyday price for 750ml bottles is $9.49!! That beats the SALE price at most grocery stores.
Here's how the deal works:
Buy six bottles of 750ml Bacardi at Total Wine for $9.49 each = $56.94
Send in for the $60 rebate!
Final price: Make $3.06 after rebate
Can't beat FREE rum!
Just for reference, here's the list of prices I was able to find in my "research." (Tony was making fun of me as I called up stores to get Bacardi rum prices on our road trip this weekend. Hey, it's one way to pass the time! And now I know the cheapest place to buy liquor in the future!) Note, these are all AZ prices.
Bacardi Rum (750ml) — Safeway $13.99, Fry's $11.99, Bashas' $12.99, Albertson's $13.99, CVS $11.99,  Total Wine $9.49
So, if you don't have a Total Wine nearby, you probably would want to do the deal at Fry's or CVS.  I checked Sam's Club, and they don't carry the 750ml bottles. And I did notice that liquor prices in California are cheaper than AZ. For example, the Albertsons we stopped at had Bacardi on sale for $9.99, with a 10% discount when you buy 6, making the final price $8.99 each! And CVS in California was also cheaper at $10.99.
If you're lucky enough to find or trade for hangtags with $5/2 coupons for Bacardi rum (being reported elsewhere in the country), then you can turn this into an even bigger moneymaker.