This Memorial weekend, Tony and I took a road trip to Durango, with a scenic detour through Monument Valley on the way back. Aside from a sore lower back from Tony's horribly uncomfortable seats (ugh, Nissan, have you heard of back support?!?), I had a fabulous time!
I figured I'd start with the end of the trip first, since that's how I tend to edit my photos – backwards. I'm goofy like that.
By the time we reached Monument Valley, it was pretty late (1pm-ish), and we still had a good 6 hour drive home. Someone was in a cranky mood from the long drive and just wanted to hurry and get through the 17-mile Valley Drive, and get back on the road. (I'll give you a hint – it wasn't me!
)  So we got out briefly at each of the stops and snapped a few photos, but we didn't get to spend as much time as I'd like. That is totally all right, because I foresee more trips in our future!! The place is just too cool not to go to again (and again and again).
In terms of coolest places to see in Arizona, I'd rank Monument Valley right up there with the Grand Canyon and Havasu Falls.   In terms of quintessential western Arizona landscape — well, Monument Valley takes the cake.
Did you know: Monument Valley's full name is Monument Valley Tribal Park, which is the Navajo Nation equivalent to a National Park.  I already have visiting all 58 US National Parks on my bucket list, but now I must look up all the tribal parks and add those too!
Helpful hints before you go:
Cost of admission is $5 per person. Children 9 and under are free. You pay at the entrance booth, and they only take cash. (We had to scrounge up enough change from Tony's center console just to get in! Note to self: Remember to withdraw cash before all future trips.)
Summer park hours are 6am – 8pm; winter park hours are 8am – 5pm.
The Navajo Nation follows Mountain Daylight Savings Time, which is not true of the rest of Arizona, so plan your trip accordingly! We totally forgot that we were going to lose an hour during our trip this weekend.
The Valley Drive is a 17-mile unpaved dirt road. Low clearance vehicles and RVs that are 25+ feet are not recommended – although I saw plenty of  regular sedans on the loop, so it's definitely possible, just slow-going. You can arrange a guided jeep or horseback tour at Goulding's Trading Post in the valley, and you can also purchase Navajo-guided jeep tours at the Visitor Center. More information on guided tours can be found here.
A telephoto lens (a good zoom lens) will come in very handy at Monument Valley,  as some of the formations are a good mile away from the lookouts.  Binoculars are also recommended.
The park has only one official hiking path, the 3.2 mile Wildcat Trail which starts just south of the visitor center and loops around West Mitten Butte.  No other hiking in the park is allowed, except with a hired guide.  I know we were discouraged that we couldn't hike away from the Valley Road at all. Especially after a long car drive, we were really itching to stretch our legs and go explore.  So, plan for a lot of butt time. On bumpy, dirt roads, no less.
Biking is permitted on the 17-mile scenic loop, but no off-road biking is allowed. We saw some mountain bikers while we were there, and it looked tough.  And hot. Plus you're sucking in all the dirt from all the vehicles passing you by on that long, dusty drive. Personally, I was quite content to be riding in my air-conditioned vehicle.
There is a primitive campsite near the Visitor Center that you can stay at for $10 per night (1-6 people) or $20 per night (7-12 people). There are 99 sites, each equipped with a table, BBQ grill, ramada and trash barrel.  All sites are on a first come, first served basis.  In winter, camping fees are half price.
You can stay at the brand new View Hotel ($150-200/night).  Each room apparently has a spectacular view of the three famous buttes (East & West Mittens and Merrick).
You could also stay the night in Mexican Hat, UT (~22 miles) or Kayenta, AZ (~24 miles) but the motels are probably cheaper in Mexican Hat.
Monument Valley Map
Here is a copy of the map they give you at the park entrance, with all the points of interest on the Valley Drive (click on image for larger view).
What I'd Do Next Time:
Now that I've got a general feel for the layout of Monument Valley, I'd like to return and spend possibly one or two nights there to get some good sunrise/sunset shots.  I'm also interested in seeing the nearby Valley of the Gods, and my co-worker *highly recommends* staying at the Valley of the Gods Bed and Breakfast. With 100% 5-star reviews, I can hardly wait to book it for our next trip! Hmmm, I wonder what the weather is like in Mexican Hat around New Years (our anniversary)?
I'd love to capture the Mittens at sunset. I'd also really love to take pictures of the monuments after a rainstorm, or on a cloudy day. I'd like to spend some more time at Artist's Point and North Window, with a telephoto lens preferably. (Tony hogged his lens the whole time
)  I'd also focus on taking some good people shots — we were in too much of a rush this time to capture many. You could take some killer family photos here.
I missed a few iconic photo opportunities the first time around.  For example, next time, I'd like to stop at the Visitor Center, and take a photo from the two large rocks where Ansel Adams photographed his famous image of Monument Valley, with the three buttes in the background (seen here). I also want to spend more time at North Window, and get a picture of the gap between the Elephant Butte and Cly Butte framing East Mitten Butte (seen here).  There's also a little trail at the North Window overlook that leads around Cly Butte,  which I'd like to explore some more.   Someday, maybe, I can chart Tom Philips for a photography tour (scroll down and read Alberto's review here). Either way, I want to do a guided tour and be able to see Mystery Valley.
Our Photos
This first photo is the view on US-163, coming from the Utah (north) side.  This is one of the most famous images of the American west. We stopped of our own accord because it was so beautiful, and I got out and took this photo in the middle of the road — not sure what mile marker we stopped at, but apparently "Mile Marker 13″ is THE PLACE TO STOP from what I've read.  Do it.  If you're coming from AZ, I'd highly recommend driving beyond the Monument Valley turnoff  just to see this view.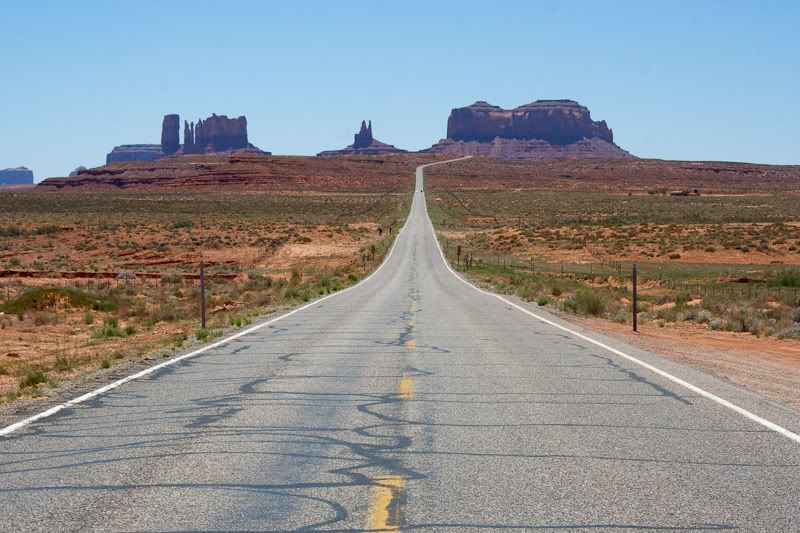 The Famous Mittens, taken at the beginning of the Valley Drive.
Tony at John Ford's Point.
Tony snapping pics at Artist's Point.
Northwest edge of  Spearhead Mesa at Artist's Point.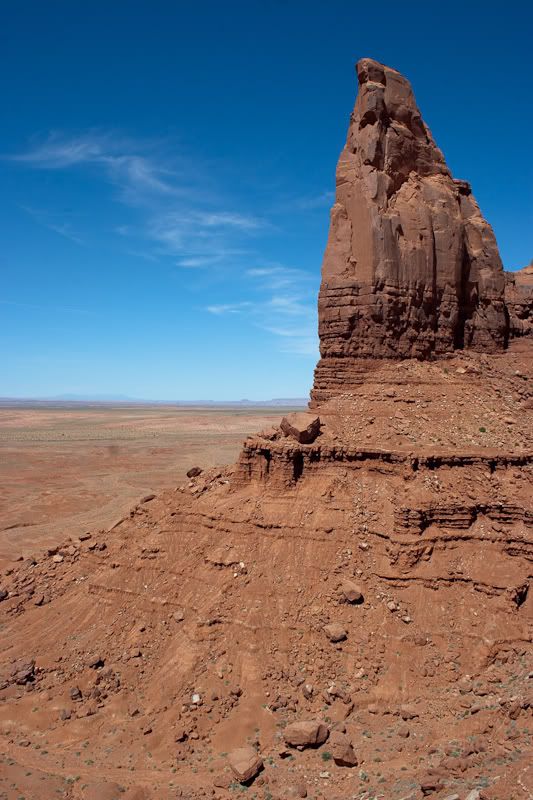 Just to give you some perspective of how tall some of these buttes are — here is a shot taken of Cly Butte at the North Window overlook.  There's actually a short walking trail that leads around the tip of Cly Butte, that gives nice panoramic views of the Mittens and Merrick Butte and other spires off in the distance outside the park.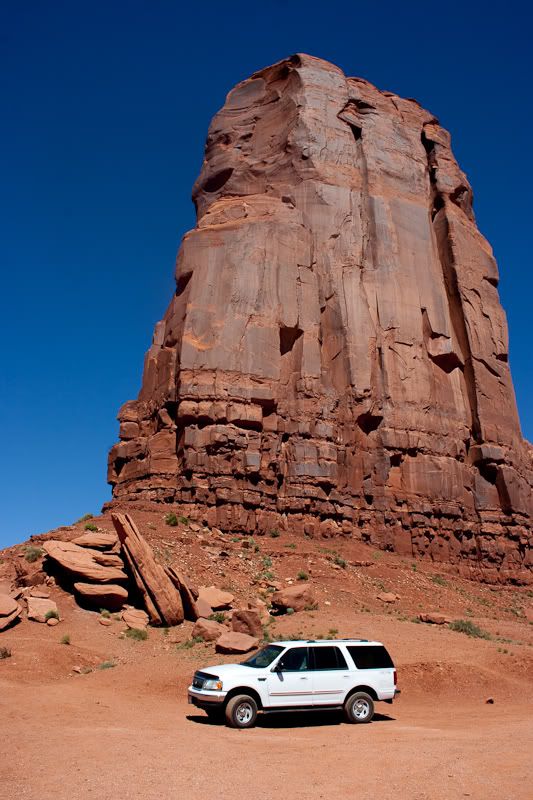 Lone tree in front of Elephant Butte, with East Mitten to the right.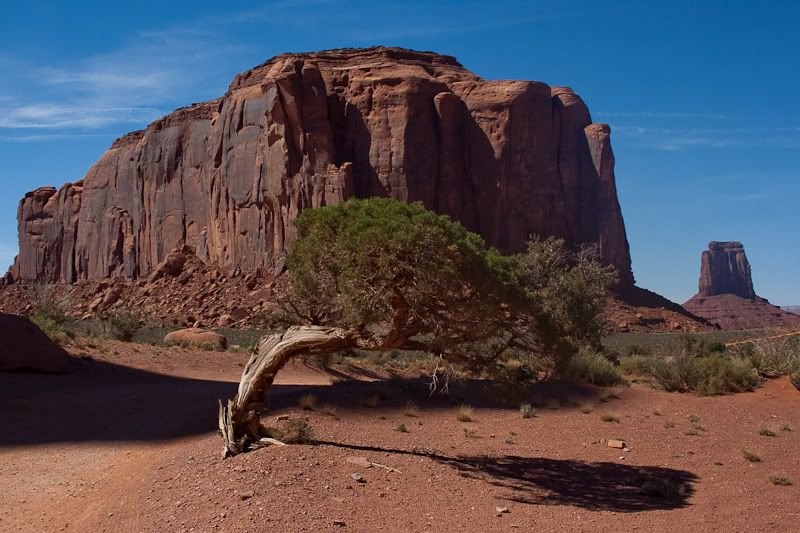 Tony got some more detailed shots with his telephoto lens. This would be my pick for the best lens to take to really zoom in on some of the formations. He also likes to play around more with post-processing editing than me.
West Mitten Butte: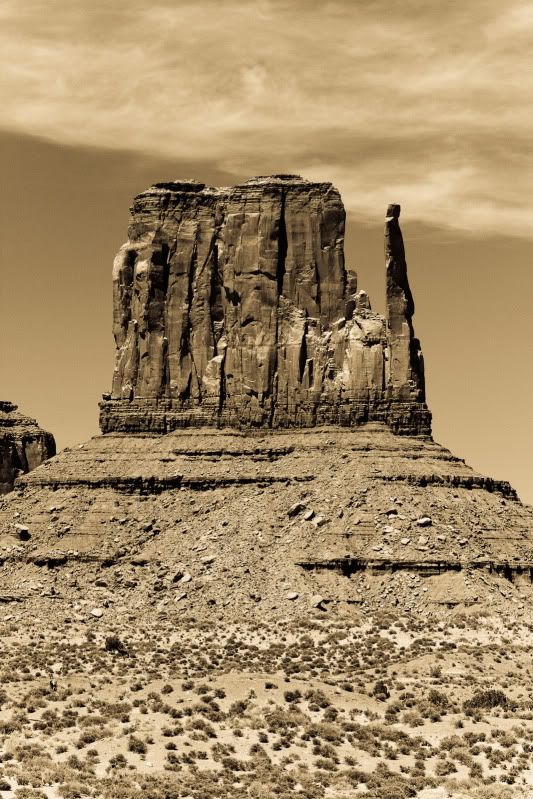 The Camel Butte (can you see the cute ears and mouth?)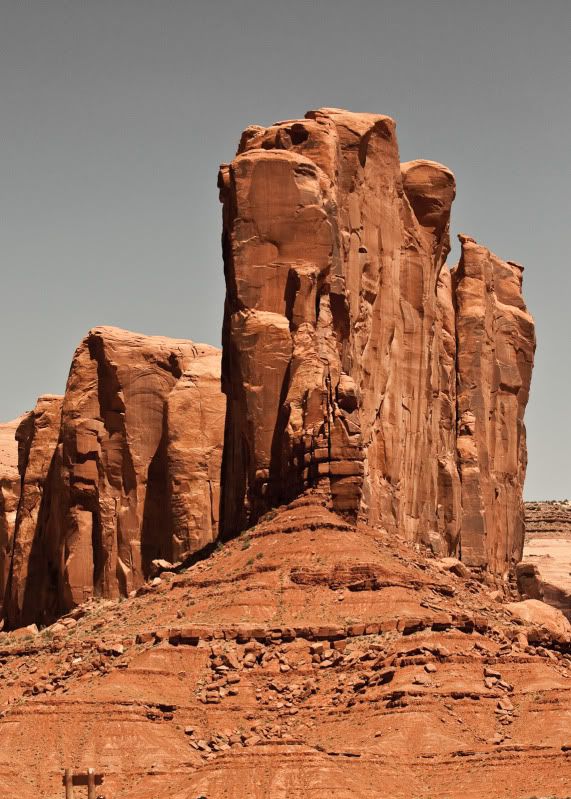 Totem Pole:
At times, I seriously felt like I had stepped onto the set of an old Western while I was there.  There's even an overlook called "John Ford's Point," for you Western film fans (John Ford was a Western film director whose favorite setting was Monument Valley).
Don't I look like I have a computer generated backdrop behind me?