Wow, you guys must really like your cheap alcohol!  I had more hits on my blog on Tuesday than I've ever had, LOL.
It's been a while since I've participated in a Bzz campaign, but I recently updated my profile and signed up for a Covergirl Blast campaign. If you're not familiar with Bzz Agent, it's basically a word of mouth marketing program that allows you to try FREE products, share your opinions with others, and influence brands with your feedback.  You can get more information or join here if you wish.
Recently, I was sent CoverGirl Smoky Shadowblast in Onyx Smoke and ShineBlast Lip Gloss in Fire.
I really liked the sponge tip applicator of the lip gloss. It has this slanted applicator called the "ShineSculpt" which easily glides over your lips.  Also, the color was much more subdued than I thought it would be. In the package it looks like it's going to be a shocking red color, and with a name like "Fire," I thought I was going to look like a cabaret dancer. But it's really just a very faint coral with a lot of shine that actually goes really well with my complexion. I'm really happy with the color.  It also has this sweet watermelon smell – which is great if you want to channel your 14-year-old self
Or if you have a boyfriend that likes fruity sweet smells like mine!
As for the ShadowBlast, I liked how fun it was to apply. It felt like I had a crayon in my hands, and glided right over my eyelids. I picked the black and white combo (Onyx Smoke) because I wanted to attempt a smoky eye…I'm not sure I pulled off a smoky eye, but I was shy with the coloring stick.  I could easily go more dramatic in the future. Also, the 2-step application is not AS easy as they say it is;  I did find that I had to blend everything in with a makeup brush, or else it looked streaky and too contrasty.
I must admit, I was rather disappointed with the staying power of both the ShineBlast Lip Gloss and the ShadowBlast. I wouldn't personally purchase either product for this reason. I found myself reaching in my pocket to reapply the lip gloss over and over again within just one hour. My sister said I looked like a spokesmodel for Cover Girl, with how often I whipped out the lip gloss to reapply.  The vibrant color of the eyeshadow seemed to last only a few hours and smeared very easily.  It too seemed like you'd have to reapply over and over throughout the night if you wanted it to last. I'm a very low maintenance kind of girl, so if I'm going to spend this long just putting the makeup on, I don't want to have to retouch it over and over!
Now, keep in mind that I NEVER do my eye makeup other than mascara, and I really have no clue what I'm doing…so I think it ended up looking pretty good!! (excuse my yucky, undone hair)
As you can see, the lip gloss barely adds any color, just a nice subtle shine.
Here's a closeup up my eyelid: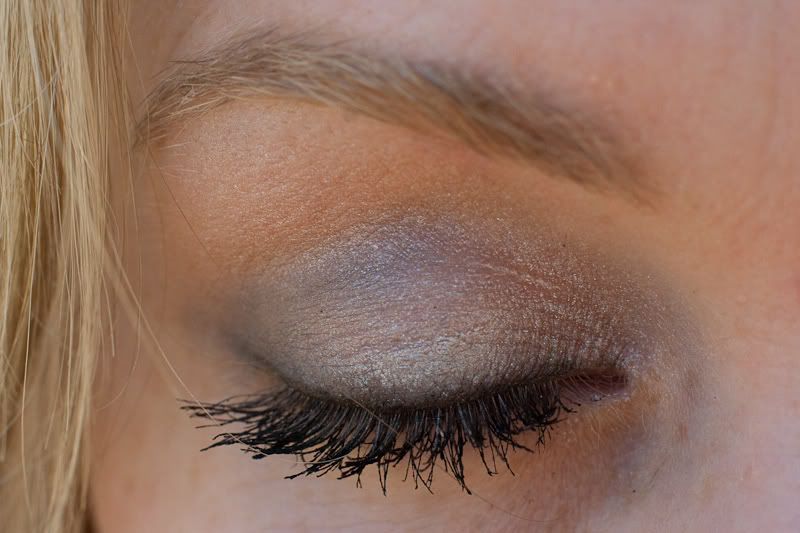 Now, I have a random funny story to share. I had done this makeup application on a random Saturday morning, and my sister had come to visit.  I had also been making her a red velvet birthday cake for her early birthday celebration (pictures to come later!). Well, when she rang the doorbell, I went to answer it and she TOTALLY BURST OUT LAUGHING.  No "hello", no "hey sis, how's it going," just uncontrollable laughter. So, of course, I think it's my eye makeup, and that I must look like a total hooker or something.  I try to laugh along, like a good sport, and ask if she likes my smoky eyes. In between laughter and tears, she manages to say:
"Oh, no, your makeup looks fine.  BUT WHAT ON EARTH DO YOU HAVE ON YOUR MOUTH?? You look like the Joker!!"
I went and looked in the mirror and busted out laughing too. I had licked the batter off the beaters for the red velvet cake I was making, and the red food coloring had stained my mouth. I must have gotten a little overzealous in my licking, because the food coloring extended halfway up my cheeks,  in what could have been a dead-on ringer for a Joker grin.
The kicker? Tony had seen me all morning and HADN'T SAID A WORD. Apparently it's normal in this house to walk around with huge painted on Joker grins. LOL!