I just purchased my first miter saw! A  single bevel 10" compound miter saw to be exact
I can't believe I even know what those terms mean!!  It's not pink, but it will do…
I squealed with delight when I opened my email to find today's Amazon Deal of the Day — a Hitachi C10FCE2 10-Inch Compound Miter Saw — for $94.99.  I'd been scouring Craigslist for a good deal on used miter saws, but hadn't had any luck yet…all the good ones were taken or overpriced.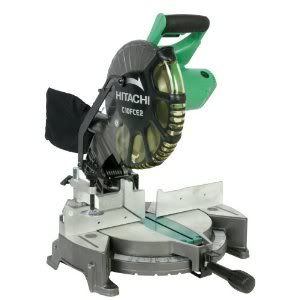 There's even a $10 mail-in rebate, making the final price of the saw $85 after rebate! What a steal! It's also backed by a 5 year warranty.
And yes, David, I know it's not dual-bevel…I plan on keeping my eye out for a dual-bevel miter saw, but for now, I figure this will be a fine saw to learn the ropes on. If I waited for the perfect saw to show up on Craigslist, I might never get started.
Also, when I went to check out, I noticed the canvas jewelry organizer from my post a few days ago had dropped in price to $18.22!  And I get free shipping since I'm buying the saw.
What am I going to do with a miter saw, you ask? Why, build furniture, of course!
Stay tuned…