Remember our first trip to Vulture City?  I was so eager to go back and take more pictures, I dragged Tony back THE VERY NEXT WEEKEND. Except this time, we brought my girlfriend, Holli, with us! She brought her friend, Melinda, and they both brought their two year olds. 
I felt like Kim Anderson, with two adorable little kids and a perfect, vintagey background. 
Except for one thing. 
I left my memory card for my camera at home. 
You can't be Kim Anderson without cute pictures. You can't even take pictures without a memory card.  The whole point of going back to Vulture City was to take pictures!!! 
I may have thrown a minor hissy fit in front of everyone.  Okaaaay, so I basically flipped out. 
After I calmed down a bit, and got used to it being just a fun play date with two adorable kiddos, I was all right. I was better than all right. I actually had a blast!! It just goes to show, I need to relax and go with the flow more. 
Warning!! Before you fall in love with the next set of pictures and run off to Vulture Mine for a photo shoot — Vulture Mine is NOT the ideal place for little ones. In fact, we were pretty much crazy to bring two year olds to unmaintained ruins in the middle of the desert on a hot day.  The place is full of hazards — sharp objects, low hanging objects, mine shafts, falling through rafters, tripping hazards galore, and SNAKES. Oh, and did I mention heat exhaustion?
Fortunately, the two little ones behaved extremely well, and with a 2:1 adult ratio, we were able to keep a VERY close eye on them. Julia still bonked her head on a low hanging pipe, and Kaleb tripped and fell a few times, but for the most part we left unscathed! No rattlesnake sightings, amazingly!! The caretakers had seen four rattlesnakes recently, so we had to be especially careful wherever we went that the kiddos weren't going to have an accidental snake encounter. It is also ESPECIALLY HOT this time of year. Please see my previous post for tips on how to prepare for a self-guided tour of the mine.
While I amused myself with the kids most of the day, Tony got some experience photographing toddlers. In fact, he captured quite a few good shots. I know the mothers were overly joyed with the results! 
Here's my all-time favorite shot of the day: 
Isn't that just amazing?  I'm going to start pimping my boyfriend out as a toddler photographer
You might remember this broken-down chair from my previous trip to Vulture. There's definitely a major advantage of staking out a site before a photo shoot, especially when you're limited on time (and attention capacity) during the actual shoot.
If you have a two year old running around, you know how hard it is to get good quality shots of them. It AIN'T EASY getting them to stay still long enough to take a picture. Or even look at you. For the shot above, I'm actually to Julia's left, pointing at Tony, trying to get her to stand on the chair and look at the camera. Luckily, Tony took a wide enough shot that he could just crop me out. 
I love everything about this photo. I love Kaleb's expression (where did mommy go!?!).  I love the ruins in the background. You can also see the spray-painted gold rocks marking the trail behind him. Perfect composition. 
The #1 reason why my arm was sore for a week: 
The #2 reason why my arm was sore for a week: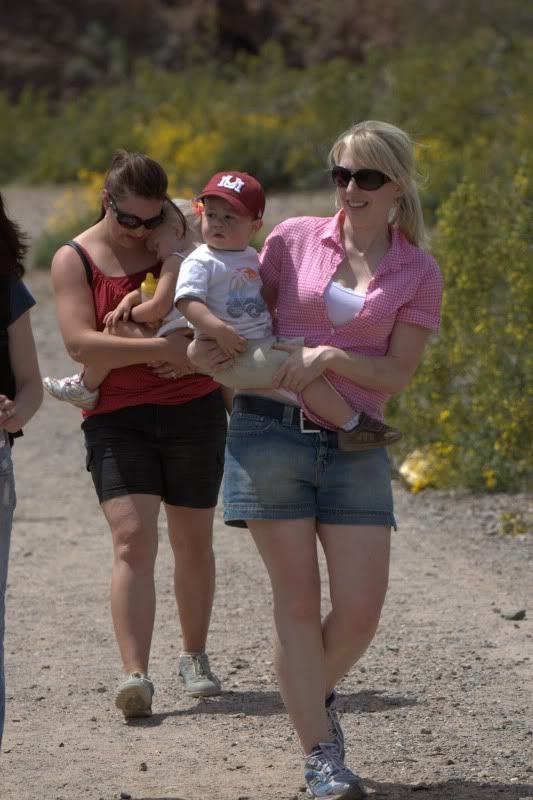 Don't I look like a natural? *wink, wink* Boy, was that kid a chunk. 
You can see the rest of Tony's collection over here. 
After the kids left, we went to check out the schoolhouse and took some couple shots.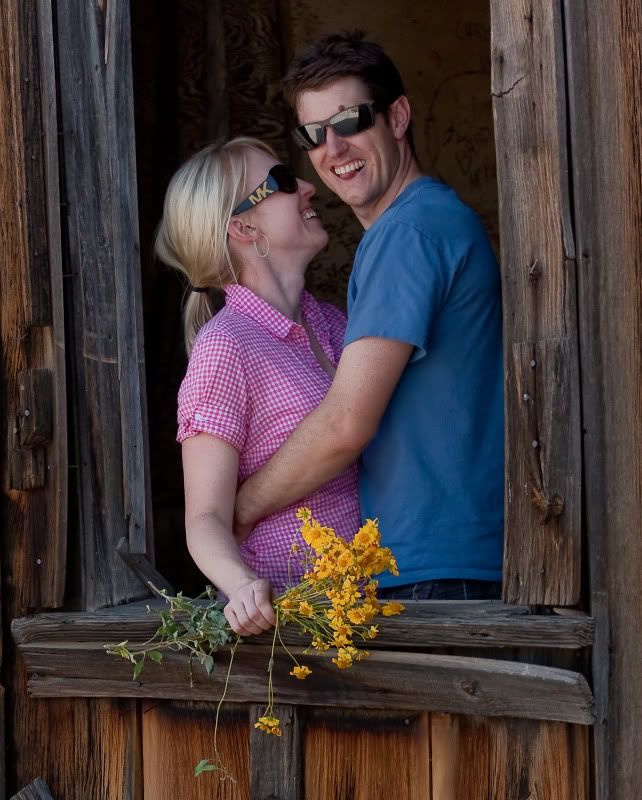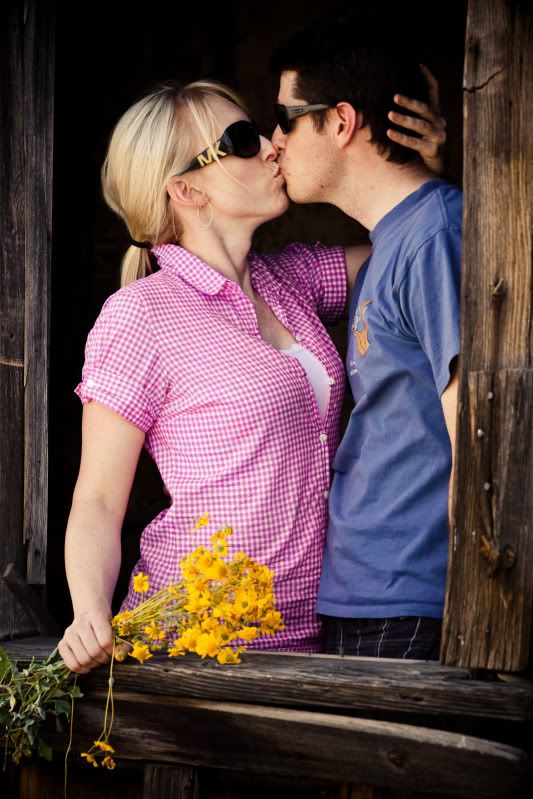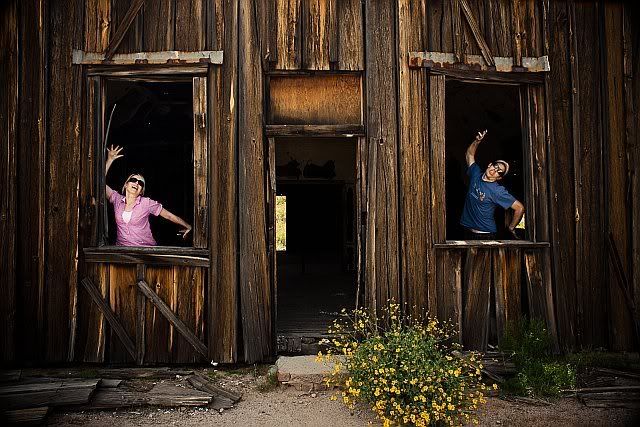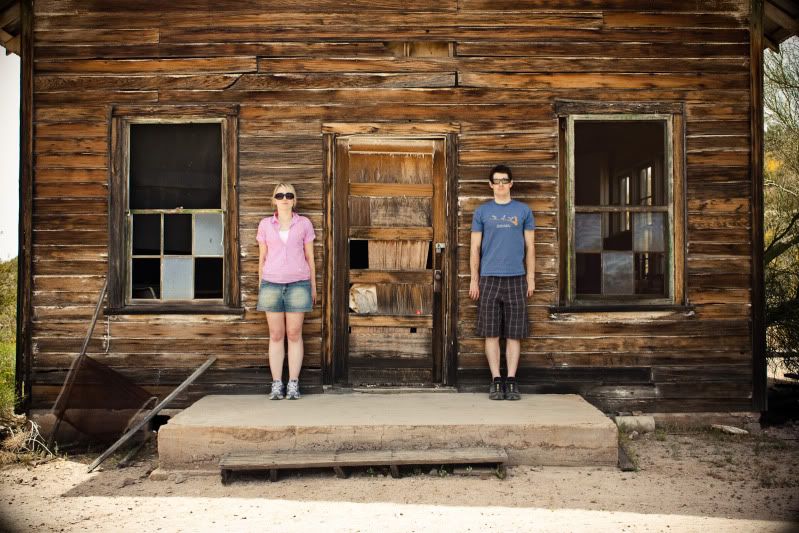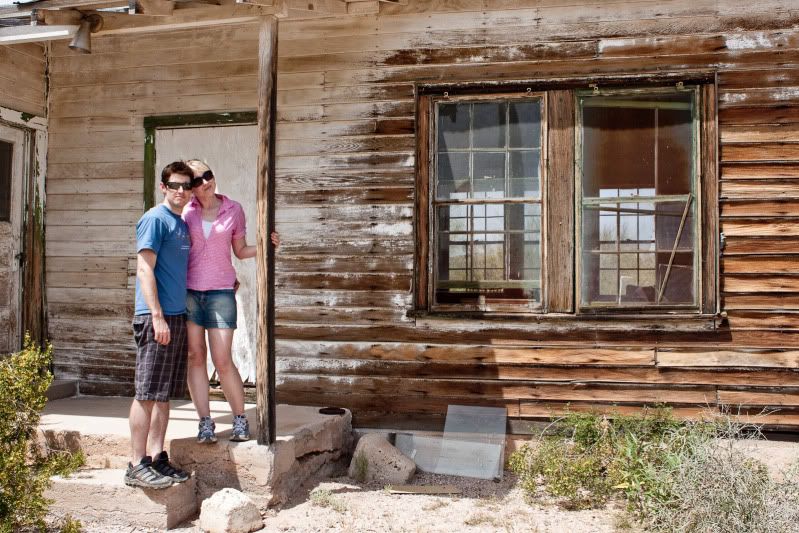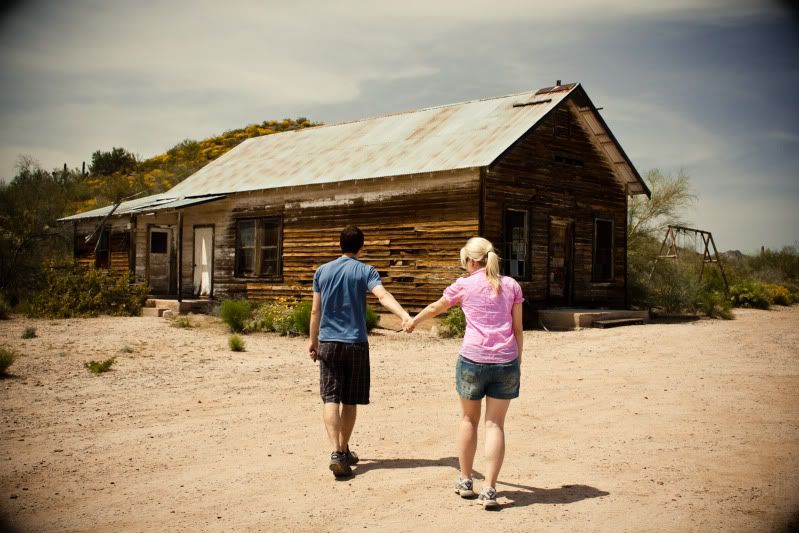 The End.