This morning I had a "D'OH, WHY DIDN'T I DO THAT SOONER" moment.
I've been wanting a beautiful jewelry armoire like this one at Kohl's for some time: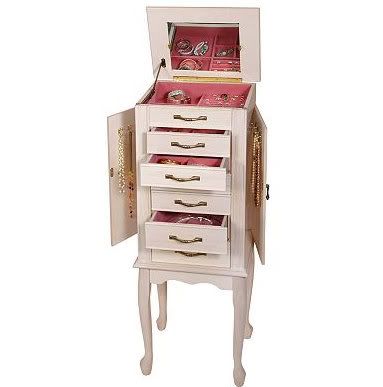 But they're so dang EXPENSIVE. This one costs $340. Ouch. The cheapest one at Kohl's is $180!!
And then I got to looking at them, and thinking wow, that would take up a lot of space, and it really doesn't solve my earring dilemma.
You see, I love dangly earrings. I've started to amass quite the collection, and they're hiding out ALL over the house. I recently tossed one of my all-time favorite pairs in a box with my makeup, and they got this horrible green funk all over them. Since most of my earrings are gifts and irreplaceable, I decided I really need to start taking better care of them.  If I got one of those jewelry armoires, the earrings would probably just get thrown in one of the drawers and they'd end up getting tangled or lost, or forgotten about.  I need a way to properly display them so they hang and I can see them!
As for most of my other jewelry — I keep most of it in a Ziploc bag (from when I used to move around a lot, it was convenient to transport), but they've pretty much become one balled up, tangled mess. Ugh.
So I got the brilliant idea to Google jewelry organizers (um, see what I mean about, why didn't I do this sooner?!?!), and LO AND BEHOLD…
Look what I discovered!!
Household Essentials 01943 Ultra 80-Pocket Hanging Jewelry Organizer  ($14.77)
You can also get one with a natural cotton canvas backing for $21.90 (choose a cheap filler to get to $25 for free Super Saver shipping):
The Household Essentials 80-Pocket Cotton Canvas Jewelry Organizer ($21.90)
I think I prefer the canvas backing, so I'm going to splurge and get the second one. I also saw that it's available at the Container Store, if you have one nearby.
This is seriously the answer to my earring storage dilemma, folks.  It hangs in my closet, it's see-through so I can see everything at once, and from the reviews it seems very sturdy. And best of all it's cheap!! Now I just need to find a cheap filler so I can get free Super Saver Shipping. {sigh, I really miss my free Amazon Prime membership…}