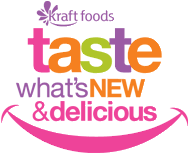 This will go EXTREMELY fast, I am sure.
Get your choice of 1 of 5 different sample packs of Kraft products, plus an *awesome* moneysaving rebate:  Spend $30 on Kraft Foods products from 5/23/10 through 6/13/10 and get $10 back by mail.
Click here to grab yours, too!
You can also sign up here if you're a facebook member.
It looks like both sites are getting hounded with requests, so they're extremely sloooow.  Be patient!