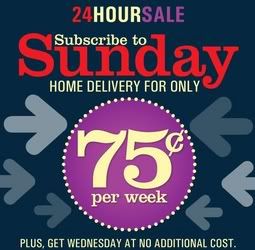 Thanks to kc for this excellent deal.
New subscribers to the AZ Republic can sign up for home delivery of both the Sunday and Wednesday newspaper for only 75 cents a week! I personally could care less about the Wednesday paper (more clutter for my driveway), but  YOU CAN'T BEAT THIS PRICE.  I've seriously never seen a price below $1.00/wk for the Sunday paper.
This deal is only good if you haven't been a subscriber in the past 30 days. So if you have, you might want to try your spouse (or your friendly neighbor?)
Sunday + Wednesday: First 26 weeks for $19.50 ($0.75/wk)
Sunday + Wednesday: First 52 weeks for $39.00 ($0.75/wk
It says this is a 24-hour sale, so not sure how long these links will be up.  It also says in fine print that the offer expires 5/31/10 — so I'm assuming you can call the number listed and mention promo code ME5 through the 31st.
This is the best deal for the AZ Republic I've ever seen.  You're saving $1.25 off the newstand rate of the Sunday paper alone!!