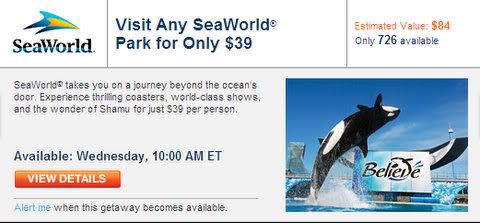 Every weekday from May 3 – June 4, 2010, you can purchase discounted travel deals at Discover America Daily Getaways sponsored by American Express.  All offers are available at 10am ET, and there are a limited number of packages available. You can preview up to one week's deals at a time.
I know there are a lot of people out there planning family vacations on a budget, so this may be a way to score some major savings!!
For example, tomorrow, Wednesday May 5, you can purchase 1 single-day admission ticket to any SeaWorld park for only $39 per person, valid through April 30, 2011.  There are only 726 tickets available.
I'm considering Friday's offer. For $50 you can purchase a free night voucher for a standard room (single or double occupancy) at any Country Inns & Suites By Carlson in North America. There is no expiration date on the voucher, and there's a limit of 517 available.  
We recently stayed at Country Inn & Suites By Carlson, Tucson City Center, which is a brand new hotel (only ~2 months old), located conveniently off the freeway near downtown Tucson.  It has spotless facilities and the most elaborate free breakfast I've ever had at a hotel.  Room rates at this location START at $99/night, so this would be a very good deal if you plan on visiting Tucson.