Here are some of the hot dealios that have caught my eye this week:
Staples: FREE Ream of Copy Paper (500 Sheets) through 4/10
At Staples, you can get a ream of copy paper for FREE after easy rebate. Limit of one rebate per household. In-store only.
Click Here for printable coupon for the copy paper
Go to your local Staples store and purchase
Click Here & enter 17-digit number from your receipt
You will receive your rebate refund by mail (in the form of a check)
I bought two reams of paper last time it was 99cents after easy rebate, and I just cashed my rebate check yesterday. Staples rebates are easy to do since they're online, and I've never had any issues with them.
Walgreens: FREE U by Kotex through 4/10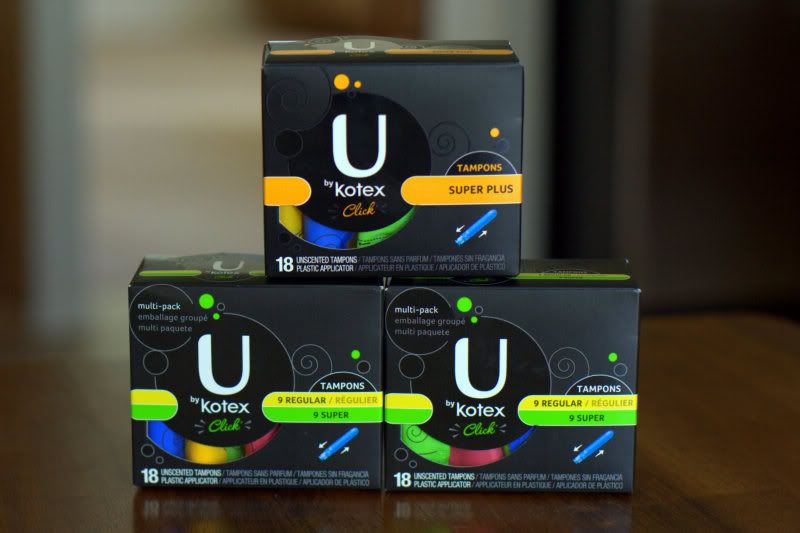 Yup – that's three packages of tampons that I've gotten free so far. I love me some free tampons!! My stockpile has dwindled to next to nil, so this was good timing for me.  I like the sleek new look of these boxes! Compact too.
Here's the deal:
Buy 1 U by Kotex products at $3.49, Get $2.50 Register Rewards
Use $1/1 printable
Or use $1/1 coupon from the April All You magazine
Free after coupon and Register Rewards
For Walgreens newbies, Register Rewards (RRs) are coupons that print out at the register, good for your next order at Walgreens. They're basically Walgreens cash, but they expire within two weeks, which is the sucky part. I'm horrible at letting RR's expire.
WARNING: Don't try to roll the Register Reward on the same item (meaning re-use the $2.50 RR to purchase another package of U Kotex) – it will prevent another Register Reward from printing. If you want to stock up on multiple boxes (Like me!), you'll have to pay cash and collect the register rewards and use them to purchase something else that you need. Just make sure to use them before they expire!!
Safeway GDA: Cheap Ziploc Containers
I love the stackable Ziploc containers. The 1-cup size are great for freezing portions, and I go through quite a few for my lunches. They're currently on sale at Safeway right now — when you buy 4, they are only $1.99 per package (each package contains 4). Pair the sale with manufacturer's coupons, and the rebate, and you have some super cheap containers!
Here's the deal:
Buy 4 Ziploc containers at $1.99 each
Use (4) $0.55/1 any Ziploc container coupons (5-15-10) SS-3/21
Spend $3.96 plus tax
Send in for $5 rebate (limit of three per household for up to $15 back! Make sure to ring up orders on separate receipts if sending in for multiple rebates)
= $1.04 Money Maker (with coupons) or $0.74 per package (without coupons)
FREE Chavrie Goat Cheese
Join the Chavrie club here to receive a coupon for one free package Chavrie Goat Cheese.  When they ask for a UPC enter 7055170053.
The best part is that I can actually eat goat cheese without any repercussions! It's the moo variety that totally destroys me. Free cheese for me, yum!