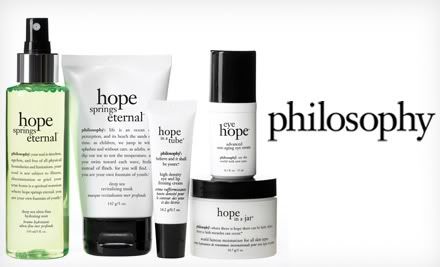 Sometimes I'm faced with a dilemma when I find a really good deal on gifts for certain family members that read this blog. Do I share the deal, and help others out in the process, or do I keep it secret so that I can totally surprise the gift recipient? (And sometimes I think they might think less of the gift if they knew how much it really cost; I know they shouldn't, it's the thought and the effort I go to to find that really perfect gift that REALLY matters. But the thought still crosses my mind.) Usually, I opt to keep it a secret.
But, I opened my inbox this morning and saw today's Groupon deal of the day, and thought WHOA THIS WOULD MAKE SUCH AN AWESOME MOTHER'S DAY GIFT. Then I had the internal fight. Do I blog it? Do I not? The problem is, I know quite a few people who use philosophy products and love it.  So I'm blogging it
All you men out there — your moms & sweethearts would LOVE to be spoiled with philosophy products. I'm thinking you could go in, use one Groupon to pick out a few items, put it in a pretty basket and then insert another Groupon as a gift so they can go pick out some products on their own. That way, you're not violating the "one Groupon per visit" rule, and they're getting $100 worth of product for only $50 out of your pocket!!!!
Just keep in mind that this Groupon expires June 19, 2010. So you only have a couple months to use it.  You can always go purchase the items and set them aside for future Christmas gifts or birthday gifts or whatnot.
It's also good at only 2 locations, but luckily for anyone receiving this present from me, one location is super close to my house! So you get two gifts in one: Philosophy products and a visit to Heather! If you're lucky, you may even get a homecooked meal out of it
Here's the details:
$25 for $50 Worth of philosophy Skin Care Products
Valid at two locations (Mesa and Chandler stores)
Complimentary facial peel
Expires 06/19/2010
Limit 1 per person. May purchase 5 additional as gifts. Limit 1 per visit. In-store purchases only. Not valid online or with retail partners. Must use in 1 visit. Not valid with other offers.
the philosophy store at Casa Paloma
7131 West Ray Rd.
Chandler, Arizona 85226
(480) 961-4673
the philosophy store at Dana Park
1660 S Val Vista Dr.
Mesa, Arizona 85204
(480) 926-0775