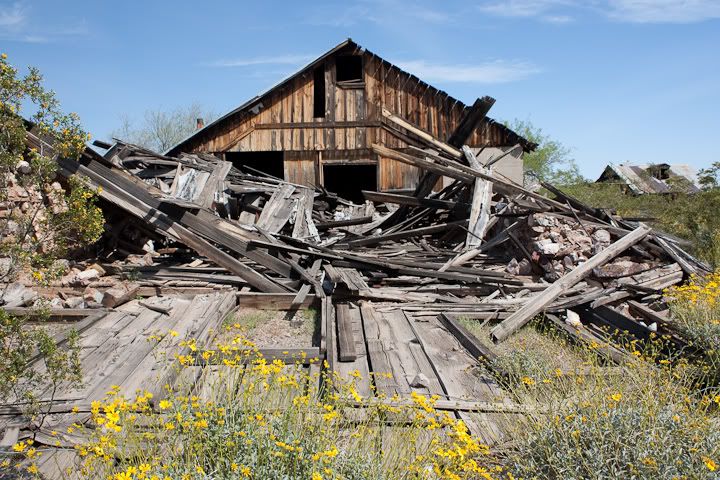 Yesterday we took a day trip to the Vulture Gold Mine in Vulture City, an old ghost town located about twelve miles southwest of Wickenburg, AZ.
If you… have never been to the Vulture Gold Mine, and you're at all interested in old ruins or mines or Arizona history, then GO NOW. Before what's left of the town collapses into ruins.
If you… have out-of-town visitors who want to experience the "Old West," take them to the Vulture Gold Mine.
If you… enjoy photography at all, go to the Vulture Gold Mine. Seriously, you'll have a field day here. Don't forget your tripod!
I can't impress upon y'all how extremely cool this place is. This is NOT a gussied up tourist trap. The buildings have not been restored or renovated at all. There appear to be a few props that have been arranged, but for the most part everything looks pretty authentic. You get to explore the crumbling remains and roam about as you please. Needless to say, you'll want to closely watch your kiddos, as this isn't the safest of places for them to roam alone.
On a scale of 1-10, I give the Vulture Mine a 12.  It's just that cool.
The History:
The Vulture Gold Mine was established in 1863 by Henry Wickenburg. The mine changed hands several times over the years, and is said to have raked in as much as $40 million in gold, making it one of the richest gold mines in Arizona history. When the mine was forced to close in 1942 by the government due to WWII, the once thriving community became a ghost town. There are various buildings, a schoolhouse, and a hanging tree still left. Visitors can take a self-guided tour in the ruins for a $10 admission fee.
Some Helpful Info Before You Go:
As of this writing, the self-guided tour is open from 9am – 3pm, and the admission fee is $10 per person. You get a map when you pay your admission fee.
I highly recommend you get an early start to beat the blazing sun.  Wear lots of sunscreen and a hat, and bring plenty of Gatorade/water to keep hydrated, especially if you plan on visiting between now and October. It gets HOT out there.
Also, give yourself plenty of time for taking photographs. We actually ran out of time on our first visit. I was so mesmerized with the Assay Building that I didn't get to see most of the other buildings. In fact, I didn't even see any of the mine itself, if you can believe it!
Bring a carrot for Olive the burro, or coins to feed her cheerios.  She also enjoys scratches behind the ear.
Directions from Phoenix:
If you're a dope, you can follow Google Maps or a GPS's advice, and take Grand Avenue (US60) northwest for 53 miles to Wickenburg. Don't be a dope like me. Those stoplights on Grand Ave are hella annoying.
Today I was advised by a co-worker that you can take I-17N to the exit for State Highway 74 (Carefree Highway) and follow Carefree Hwy toward Wickenburg, to avoid all the annoying stop lights on Grand Ave. Yay! This will make the drive there SO much more pleasant!
Here are the full directions:
Take I-17 north to Carefree Highway (SR74).
Take SR74 west to the intersection of SR74 and US60 – approx 36 miles.
Take US60 west to Wickenburg – approx 11 miles.
At the intersection of US 60 and 93, go under the bridge and continue west on US 60 for 2 more miles to Vulture Mine Rd.
Turn Left (West) on Vulture Mine Rd. and follow this paved road approximately 12 miles to the Vulture Mine.
If you're coming from the west side of Phoenix, you can take I-10 West to the Cotton Lane/303 loop exit. Continue north on the 303 Loop to Highway 60. Head northwest on Highway 60 towards Wickenburg.
The Photos:
I could write a whole book on the Vulture Gold Mine tour, but you're probably better off browsing my collection of photos HERE. I stuck to mostly fine detail shots using my 50mm lens, since I didn't have time to swap lenses in and out. You can see more wide-angle landscape photos (and some cool HDR shots) in Tony's collection over HERE. Next time (and believe me, there will be a next time very soon!) we plan on swapping lenses, and I hope to use his tripod to eliminate some of the camera shake in my shots. I also hope to see the rest of the site, like the mine shaft and the schoolhouse.
In the meantime, here are some highlights from the tour. Enjoy!
Tony, me and Jen posing at the front gate of the Vulture Gold Mine.
This is my favorite picture of Tony's. It truly captures the spirit of the Vulture's Roost, a wood-framed building closest to the parking lot, where you pay your tour fee. Out front, there's a collection of random junk, including a toilet seat ashtray with a handwritten sign that says "Place <butts> here".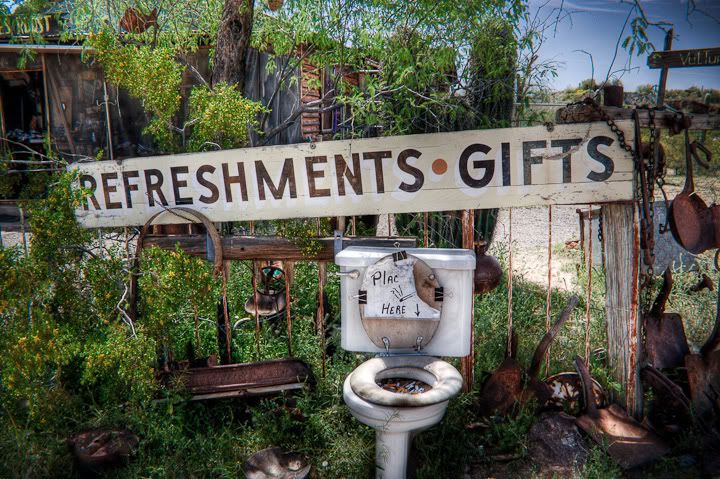 The first stop on the self-guided tour is the Assay Office & Manager's headquarters.  This is my favorite building to photograph, and one of the most complete buildings in the ghost town. The structure's walls, built from low-grade ore, are claimed to contain an estimated $600,000 in gold and silver. Here's my friend Jen entering the Assay Building: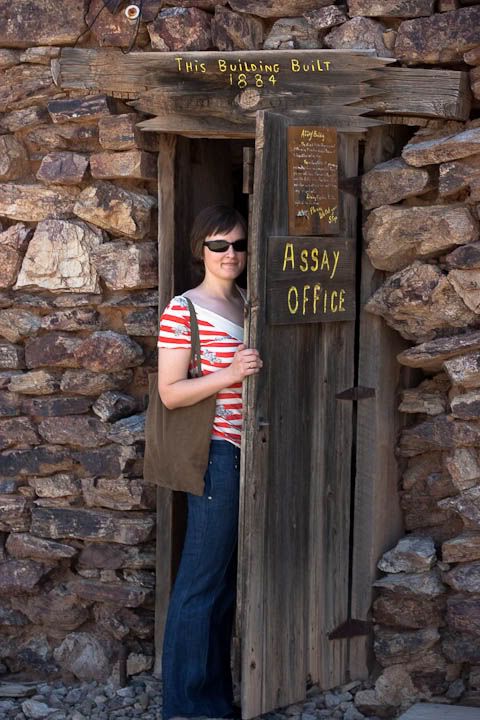 This shot shows just how fragile everything is, and how the ceiling looks like it's going to cave in at any moment:
I could take pictures of all the different textures for days and days. Cracked, fading wallpaper. Peeling paint. Remnants of linoleum. Wood paneling. Bare concrete, rock walls, and tin-siding. Mmmmm, such a textural feast for the eyes!
This is one of my favorites, composition-wise:
A broken down chair.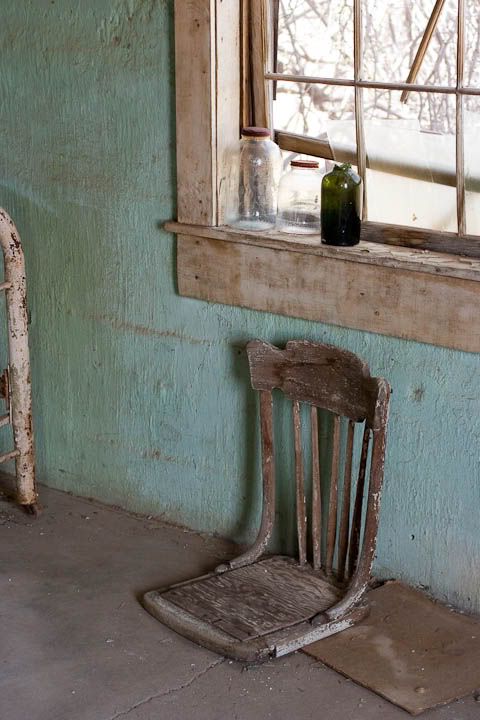 Tony captured a cool shot of me in the living quarters of the Assay Building: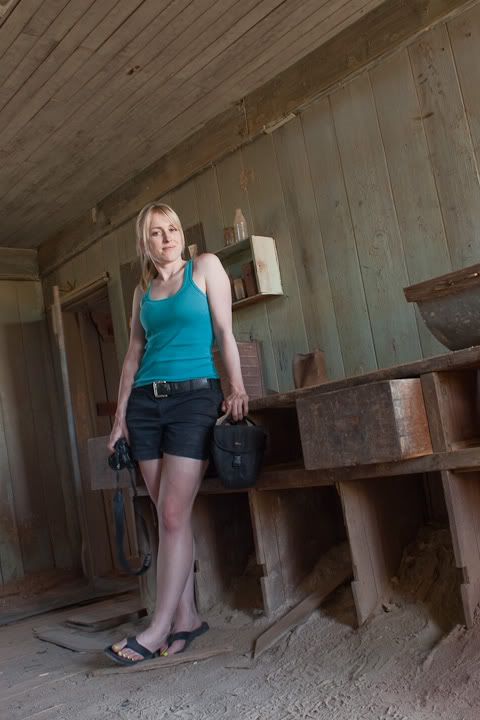 Here's a fantastic wide-angle Tony got of some ruins: