New Speedpass customers can get a $20 Exxon/Mobil Gift Card for signing up and activating a new Speedpass account. Just sign up and activate online to receive this great offer. Be sure you use promo code UPM10. Offer expires May 5th, 2010.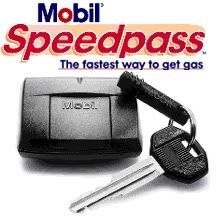 You can go here to find an Exxon/Mobil in your area.
***Optional for a better deal***- Sign up or link your Speedpass to your Upromise account and you will earn $0.01/gallon when you purchase over 20 gallons at Exxon/Mobil during any one calendar month.
Here's the site map of AZ for all my local readers:

Phoenix currently doesn't have any Exxon/Mobil stations, but these will come in VERY handy on vacations!  Plus, there's one in Camp Verde, so we can always fill up when we go visit the parents
  I signed up a while back, and am waiting to get the SpeedPass in the mail to activate it. You are supposed to receive the gift card within 90 days of activations, so we'll see!!  I plan on getting Tony to sign up too so we can hopefully get $40 in gift cards.