I think I could safely call this THE chocolate pie to end all PMS cravings.
This pie is THAT rich and THAT decadent.
I found this recipe for Chocolate Mousse Pie on the Cooking with Trader Joe's blog and made it for Easter.  The pie got rave reviews from all the chocolate fans.  The non-rich-chocolate fans (Tony and my mom) wouldn't go near it.  Poo poo heads.  Hoon-Hoon, I'm sorry you missed it. This had your name written all over it.
If you have extreme chocolate lovers in your house, then you'll probably want to make this, stat. If you don't have a Trader Joe's around, you can use Oreos and a different brand of chocolate (chips, bars, whatever you can find to melt down). Just make sure it's a GOOD brand of chocolate, as this is the most important (and most exposed!!) element. Use a bad chocolate, and you'll taste it in every single bite.
If you're not familiar with the Joe-Joe's cookies, they are Trader Joe's version of classic Oreos.  They have all natural flavoring and no hydrogenated oils so you can feel better about inhaling a whole row of them at a time. (I kid, I kid. Maybe.)  And, they're cheaper! Bonus!
One of the best things about this pie is that it uses just FOUR ingredients, all available at Trader Joe's (obvi).  And two of the ingredients are for the crust!! Even better, you use a blender and food processor for all the mixing. How much easier can it get?
The cast of characters: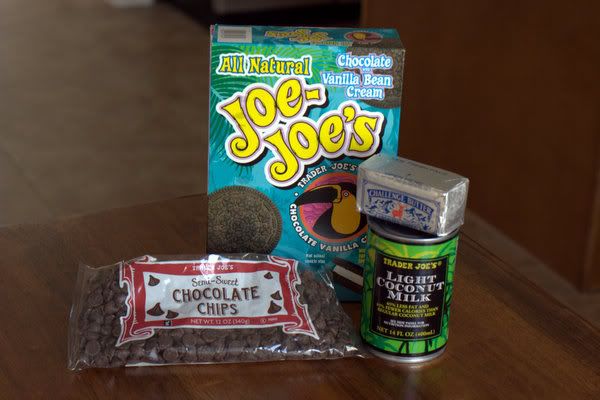 Trader Joe's semi-sweet chocolate chips, a can of light coconut milk, all natural Joe Joe's (you can use the Joe-Joe's with vanilla or chocolate filling, either works fine), and a 1/2 stick of butter.
While the original recipe isn't dairy-free or gluten-free, it would be super easy to convert it. Which makes it the bomb and my new go-to recipe for vegan and gluten-free guests. You just might have to venture outside Trader Joe's for the ingredients.  The comments on the original post indicate that you can substitute Glutinos for the Joe-Joe's to make the recipe gluten-free, and coconut oil instead of the butter to make it vegan.
My friend Jen had the honor of taste testing the first piece:
Unfortunately, she did not let me capture the look of ecstasy on her face while tasting it
Chocolate Mousse Pie with Joe-Joe's Crust
From Cooking with Trader Joe's
Serves 12
Crust:
28 Joe-Joe's Cookies with Vanilla Bean filling (2 rows out of the package)
1/4 cup melted unsalted butter (10-20 seconds in the microwave or low heat over the stove)
Filling:
1 (12 oz) bag Semi-Sweet Chocolate Chips
1 (14 oz) can Light Coconut Milk
Directions:
Preheat oven to 350°F.
Crush the cookies in a food processor.  Pulse the processor until the cookies are fine crumbs.  Pour in the melted butter and pulse till combined.  Press the crumbs firmly into an oven-safe pie dish.  (I used my glass measuring cup to press and compact the crust.)
Bake the crust for 5 minutes.  Remove from oven and cool completely.
Melt the chocolate on the stovetop or in the microwave. (Microwave for 1 minute and then in 30 second increments, stirring well in between until completely smooth and melted.  Do not scorch.)
Pour the coconut milk into a blender and add the melted chocolate.  Immediately, blend until completely smooth (about 20-30 seconds).
Pour filling into crust and chill for 4 hours or overnight in the fridge. (I froze it for a few hours then stored it in the fridge.)
Heather's notes:  This pie was even a little rich for me, if you can believe it! I know!! How could it be? After one slice, I was pretty much satisfied.  This is definitely an only-on-special-occasions dessert, not an every day treat. Also, the name 'mousse pie' is a bit of a misnomer.  It's not so much a mousse texture, as a really thick, fudgy consistency. Which is awesome. I had NO idea that coconut milk sets up like that when chilled.

While the filling is coconut-based, the coconut flavor is pretty much eclipsed by the chocolate.  Like I said before, make sure to splurge on GOOD chocolate! Next time, I would use dark chocolate instead of semi-sweet; I think this would elevate it to a whole 'nother level. The amount of variations you could make with this pie are actually endless. I'm thinking white chocolate, or spiced pumpkin, or chocolate mint would all work.

I did have problems with bubbles getting incorporated into the pie filling when I blended at max speed. I was afraid the chocolate was going to cool down and seize, so I blended as quickly as possible. It made the top of the pie less pretty (and more homemade looking), but did not affect the final product. If you were presenting this to guests, and you were terribly concerned about presentation, you might want to take a little more time and warm up the coconut milk a little before mixing it with the chocolate so you don't have to worry about the chocolate seizing.  Then you could try blending at a low speed, or use a handheld immersion blender to create a smooth emulsion without incorporating air bubbles. Or do what I did, and just serve a whopping dallop of whipped cream on top and no one will ever know