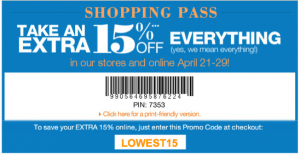 I know I'm a little late posting this, but Kohl's has a 15% off everything printable coupon that is good through tomorrow.  It's their "Lowest Prices of the Season Sale" through April 29, 2010, so prices are supposedly as low as they're ever going to be. (I know, Kohl's always seems to be having a sale of some sort!)
I went in last night to check out the sales and use the $10 coupon they left on my doorknob. (There are definite perks to living next to a Kohl's!)
There are a lot of cute pajamas in the Vera Wang collection right now, and with the sale and the coupon you can get them for an absolute steal. I ended up trying on a few, and they're all so incredibly soft and comfortable.  The nightgowns are perfect for wearing around the house, and staying cool now that the hot AZ summer is fast approaching!
I ended up treating myself to this Floral Babydoll Chemise. It's flirty and feminine and springy and oh so comfy!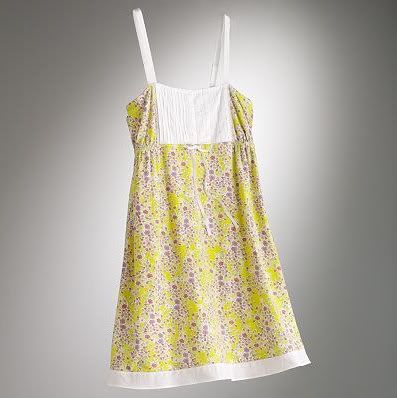 Unfortunately (or fortunately for my wallet), I didn't see this particular nightgown at my local Kohl's, or I would have had a hard time deciding!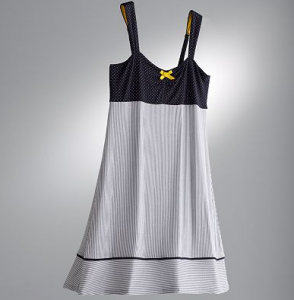 This pin-dot and striped babydoll chemise normally sells for $38, but it's on sale right now for just $15.20.  $15.20 is definitely a great price, but you can save an additional 15% and pay just $12.92. That's a Wal-mart price for a Vera Wang nightgown!
If you're not a nightgown kinda gal, they also have really cute PJ sets. You can't tell from the pictures, but they're made from the comfiest material ever.  I thought this dot pajama set was cute: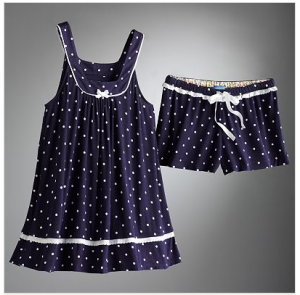 Normally this set retails for $44.  Right now, however, it's on sale for $28.60.  The additional 15% discount drops the price to an even better $24.31!
I also peeked in at the picture frame selection, since Kohl's is one of my favorite sources for frames, and most frames were 55% off, making them a very good deal. Just in time for Mother's Day!
Don't forget, if you shop online, you can maximize your savings and get additional cash back! If you shop through ShopAtHome, you can get 4% cash back, plus a $5 sign-up bonus for first-time members. Or go through my all-time favorite site, Mr. Rebates, and get 3% cash back, also with a $5 sign-up bonus.