I feel so accomplished! Even though I'm totally zapped of energy (dang allergies), and I spent a good amount of the weekend in bed, I was still able to get some stuff done around the house.  Tony helped me fix my brake lights (2 hours of hard work, for what turned out to be the simplest fix ever!!), and he also helped me build a mini hook rack for hanging our outdoor gear.
Up until now our "bonus room" has been a storage area for all the moving boxes that we haven't gotten around to unpacking yet.   Since it's the first room we  enter after the garage, it's also where we collect all our shoes, bags, and miscellaneous random crap that we don't want to clutter the house with. My goal is to eventually convert the room to a workout room, with treadmill, weights, the new bike trainer(!), and possibly a TV. I do have a vision for the room;  unfortunately, the vision is far from being realized due to all the other higher priority items around the house.
But today we gave the room a bit of a face-lift.  As pretty outdoorsy people, Tony and I have accumulated a lot of gear. Between the two of us, I think we have three Camelbacks, and something like five backpacks. All these packs were piled in the middle of the floor in the bonus room, and have been irking me for months. Now the only way to really get these organized would be to hang them up. I've thought about getting a mobile clothes rack, and just hanging all the packs on hangers, but the rack itself would take up so much space, that I never did it.
Then, with some inspiration from a friend, we came up with this DIY solution: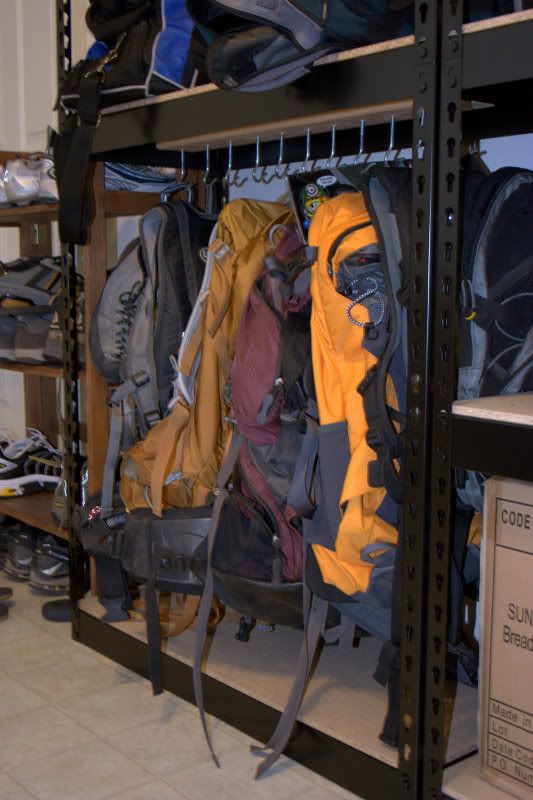 Here's a close-up of what it looks like: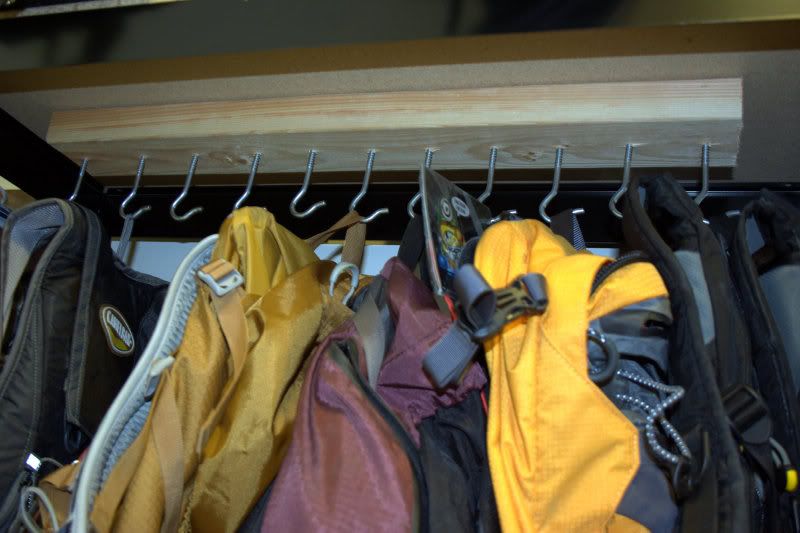 It's so compact and neat!! YAY!!
I must give TOTAL credit to our friend Aaron, who is THE organizing king in my eyes.  I stole this idea when I went to his housewarming party this weekend. (Anybody want to invite me to their house so I can steal more organizing secrets?? Pretty please??)
I already had some adjustable Gorilla Racks that I had picked up from Ace Hardware at a killer price ($30 after rebate). So all we needed to do was space the shelving to the height of the packs, and nail in a 2×4 onto the bottom of one of the shelves. We then screwed in hooks that we picked up at Lowe's, and voila! Easy, peasy!
Since we already had a 2×4 laying around, all this project cost us was $4.97 for a package of hooks! If you don't already have shelves that you can use, you can pick up some very cheaply at Ikea (that's what my friend uses to store all his gear).
Getting rid of the messy pile of bags in the middle of the floor & restoring some of my sanity: priceless.