Look what I just won!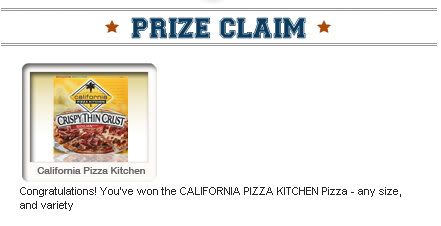 Tony's going to be excited. I never buy pizza since I don't eat cheese. That's one meal I don't have to plan for next week!
Through April 6th, you can play the hoops game on the Fry's website once a day. There's over 80,000 prizes, and it looks like your chances of winning are pretty high since this is only the 2nd time I've played. Your prizes are automatically loaded to your Fry's/Kroger card, so no need to print or carry coupons.
I'll be playing daily now that I'm registered – apparently I was already registered on the Fry's site, I just had to figure out my password. Annoying.
Thanks to kc at Desert Deals Diva for the heads up.