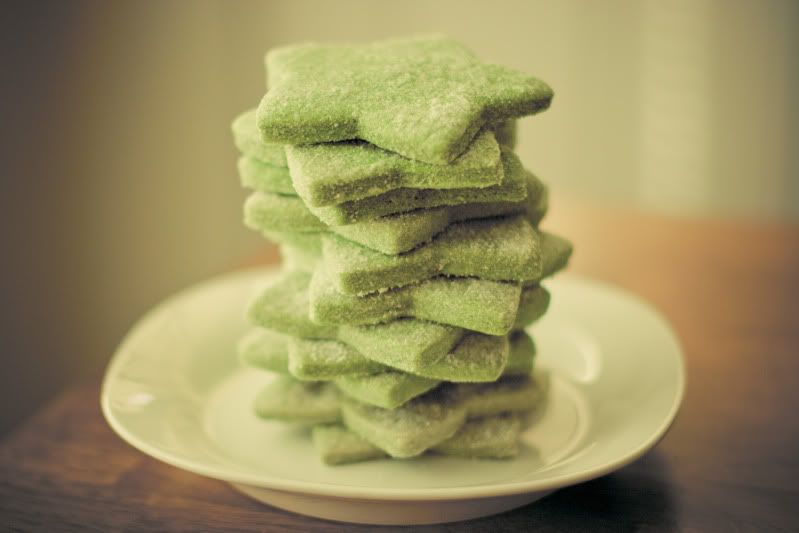 I love this picture. It has that old timey Christmasy feel.
My friend Mako's sister knows I LOVE green tea, and she's always very sweet and sends me packages of green tea from Japan. This last time she sent me Matcha (green tea powder). Matcha has been popping up all over the blogosphere in baked goods, and I had been dying to get my hands on some to try it out.
I found this award-winning recipe and decided to give it a whirl. You can see the many different variations baked around the world here.
Here's my take on it:
Green Tea Cookies
Adapted from www.lovescool.com
Yield: Approx. 25
Ingredients
3/4 cup (2.25 oz) confectioners sugar
5 oz unsalted butter, cut into cubes
1-3/4 cup (8.5 oz) all-purpose flour
3 large egg yolks
1 TBS Matcha (powdered green tea)
1 cup granulated sugar (for coating)
Directions
Preheat the oven to 350°F. Line a sheet pan with parchment paper.
Whisk the confectioner's sugar and green tea together in a bowl.
Add the butter and green tea/sugar mixture to the bowl of a stand mixer fitted with the paddle attachment. Mix until smooth and uniform in color.
Add the flour and mix until well combined.
Add the egg yolks and mix just until the eggs are fully incorporated and a mass forms.
Form the dough into a disk and chill in the refrigerator until firm (about 30 minutes).
Roll the dough out to ½" thickness.
Cut the dough with a cookie cutter.
Toss each cut cookie in a bowl of granulated sugar to coat.
Place the sugar-coated cookie on a parchment lined pan. Bake at 350°F for 12-15 minutes, or until slightly golden around the edges.
Heather's Notes: You can purchase Matcha (powdered green tea) from Asian grocery stores or specialty tea shops. Here is what the package that I received from Mako's sister looks like: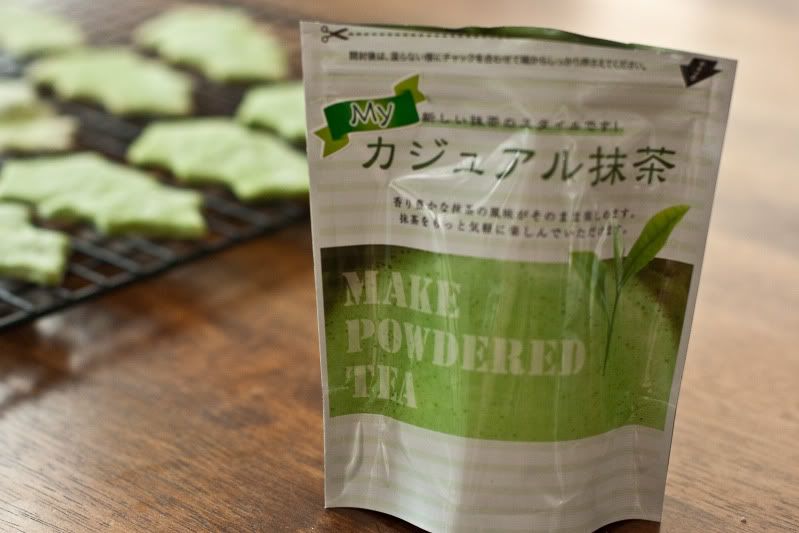 The powder itself is a vibrant green: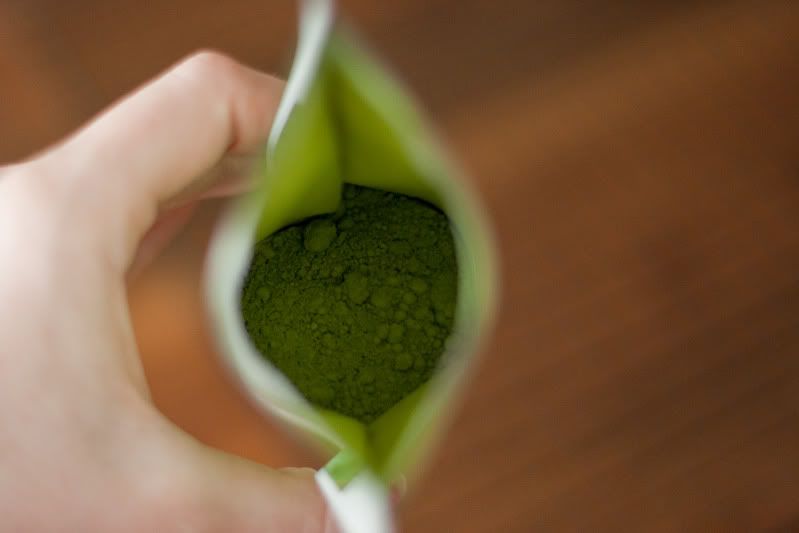 Which in turn makes the batter a brilliant shade of green:
I love bright colors! I think it would be fun to make a blog highlighting only brightly colored food. =)
The results? If you like green tea, this cookie is for you. This is a buttery shortbread cookie with delicate green tea notes. I used onetablespoon of Matcha, as opposed to the 1.5 called for in the original recipe, and I think it was perfect.
It's better to roll these out on the thick side, and cook until just moist inside. I was making these for a cookie exchange, so I needed to bake 5 DOZEN COOKIES. I rolled them out much thinner than the recommended 1/2" just to get more cookies out of a batch, but I would definitely go thicker next time. I tried several batches, and the thinner cookies always turned brown on the edges and were dry and crispy. The thicker cookies were moist and tender. I ended up making two single batches, and one double batch to arrive at 5 dozen (plus some for snacking).
Also, a word of caution: Don't store these in a sealed tupperware container for long periods of time before giving as a gift – the smell that comes out of the container when you open it is VERY strong, and may be a little off-putting. It smells strongly of grass, and may turn someone off who might otherwise enjoy the flavor!
These cookies have kick-started my love affair with Matcha. Now I need to hunt down another package!