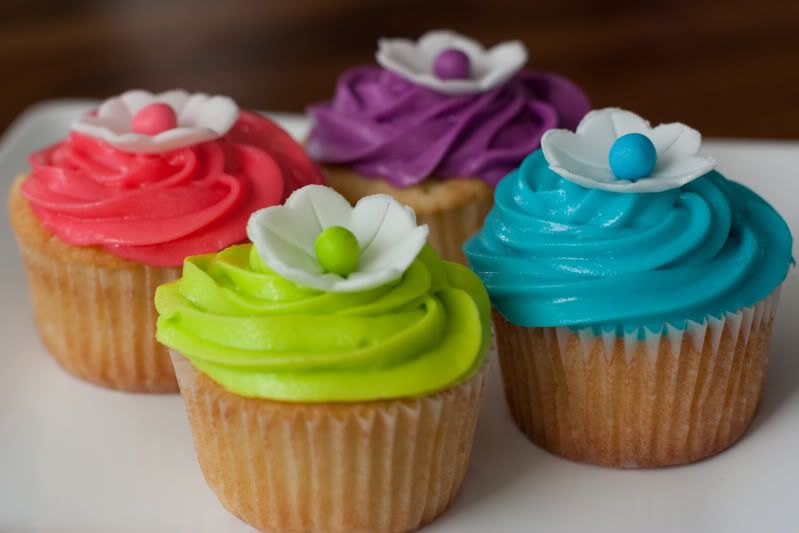 My girlfriend had a Hawaiian-themed 30th birthday party, so I decided to make 30 Hawaiian cupcakes for the birthday girl. I borrowed the idea for the icing and flowers from Delightful Dessert. It turns out I bit off a bit more than I could chew with this project, as usual. Prior to this, I had never EVER piped frosting before, and I had never worked with fondant either. And of course my perfectionism reigns supreme in the kitchen. I couldn't just use ONE color for the frosting, I had to make four different colored frostings. And they had to be evenly divided, so when I screwed up my first batch of blue frosting, I had to make an entirely new batch so I would have enough blue cupcakes! Needless to say, these are probably the prettiest things to have ever come out of my kitchen, but they may have been the most work intensive as well!
I used the Barefoot Contessa's coconut cupcake recipe, and the White Chocolate Cream Cheese frosting from Delightful Dessert. I used a 1M tip to make the swirled frosting, and I used neon food coloring that I found in the baking aisle at Safeway to get the gorgeous hues. I made the flowers using pre-made fondant and a fondant flower cutter I found at Michaels. I used the food coloring to make little colored fondant balls for the center.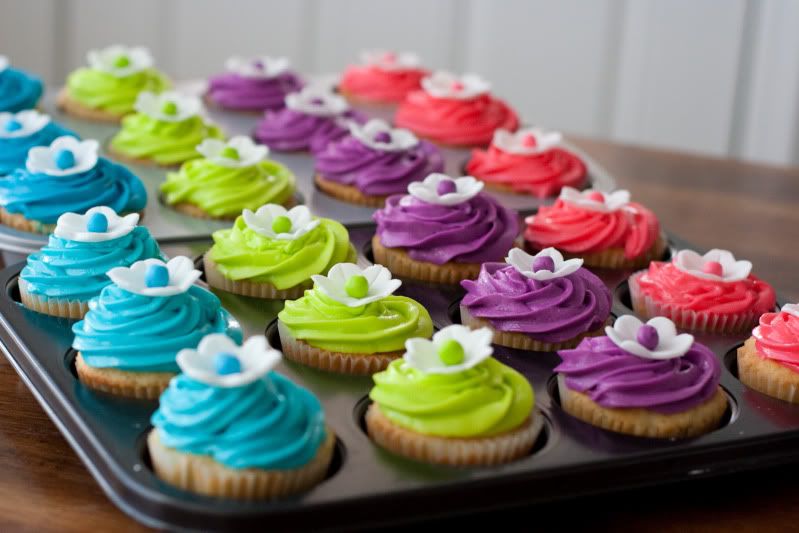 I never thought I would be a big coconut cupcake fan. But now I'm tempted to ditch chocolate cupcakes forever! It's no wonder there are so many rave reviews for these all over the internet. I took the leftovers into work (minus the fondant flowers), and they were completely devoured in less than an hour. Those who did all the devouring gave such rave reviews that a COCONUT HATER even decided to try one. Yup, the Barefoot Contessa even tempted a coconut hater.
The Barefoot Contessa's Coconut Cupcakes
Ingredients:
3/4 pound (3 sticks) unsalted butter, room temperature
2 cups sugar
5 extra-large eggs at room temperature
1 1/2 teaspoons pure vanilla extract
1 1/2 teaspoons pure almond extract
3 cups flour
1 teaspoon baking powder
1/2 teaspoon baking soda
1/2 teaspoon kosher salt
1 cup buttermilk
14 ounces sweetened, shredded coconut
Directions:
Preheat the oven to 325 degrees F.
In the bowl of an electric mixer fitted with the paddle attachment, cream the butter and sugar on high speed until light and fluffy, about 5 minutes. With the mixer on low speed, add the eggs, 1 at a time, scraping down the bowl after each addition. Add the vanilla and almond extracts and mix well.
In a separate bowl, sift together the flour, baking powder, baking soda, and salt. In 3 parts, alternately add the dry ingredients and the buttermilk to the batter, beginning and ending with the dry. Mix until just combined. Fold in 7 ounces of coconut.
Line a muffin pan with paper liners. Fill each liner to the top with batter. Bake for 25 to 35 minutes, until the tops are brown and a toothpick comes out clean. Allow to cool in the pan for 15 minutes. Remove to a baking rack and cool completely.
Heather's notes: These cupcakes are dense (but not too dense) and buttery and moist with the perfect hint of almond extract. They completely beat the pants off any boxed cupcake mix. Make sure and follow the recipe and use room temperature ingredients, and don't skimp on anything and you will have amazing results! These are definitely wedding-worthy.
The recipe supposedly yields 18 to 20 cupcakes, but they must be mondo-sized! I doubled the recipe and easily came out with 4 to 5 pans of cupcakes. I think the Barefoot Contessa intended for these to be filled to the top, in which case they would explode over and make HUGE muffin tops (seriously, can you imagine all that coconut yumminess?!!) I only filled the liners 3/4 of the way, and they were the perfect size for decorating. Also, according to the birthday girl, these stay fresh at least a week after baking.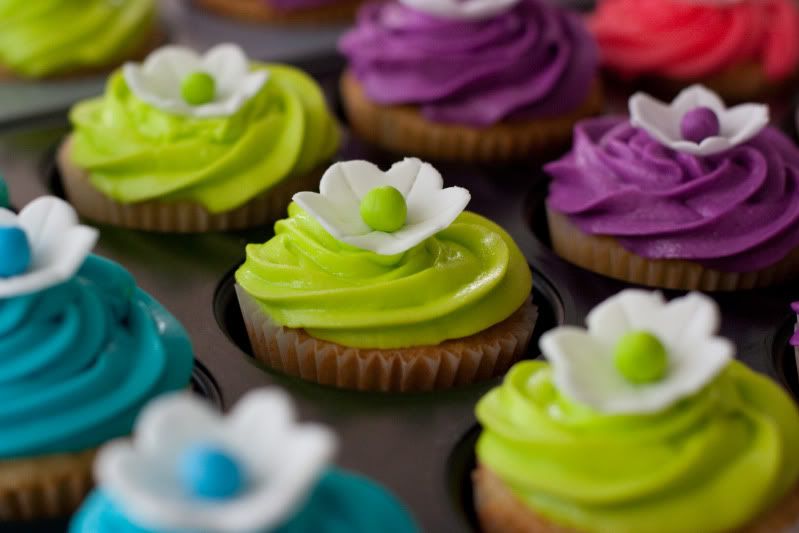 White Chocolate Cream Cheese Frosting

7oz (approx one heaping cup) white chocolate chips
1 stick unsalted butter, room temperature
8 ounces cream cheese, softened
1 teaspoon vanilla extract
2 cups powdered sugar
1. Melt white chocolate chips in a bowl in the microwave in 20-second bursts. Cool for about 10 minutes.
2. Cream butter and cream cheese together using an electric mixture (make sure they are both room temperature or they won't cream properly).
3. Add the white chocolate and vanilla and beat until combined.
4. Carefully add in the powdered sugar and beat at low speed until combined.
5. Turn off mixer and give it a good stir to make sure everything is combined.
Heather's Notes: The first batch I made was waaaay too thin for piping, and I ended up with a pile of runny, dribbly blue poo on my cupcake. It dawned on me that I actually KNEW how to make frosting from scratch and that no matter what recipe you use, the basic tenet to frosting is always true: add more liquid (usually milk or water) to make it thinner and more powdered sugar to make it thicker. I ended up using a LOT more powdered sugar to get the consistency I wanted, at least half a bag. Play it by ear here and have fun! Each batch made enough to frost 16-20 cupcakes.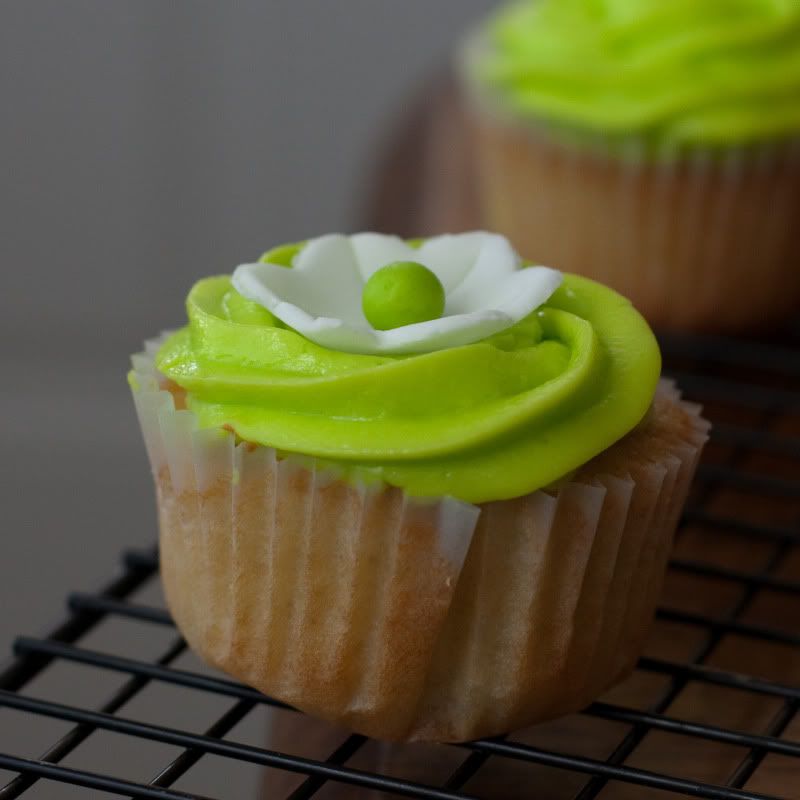 As for the birthday girl, she was more than thrilled. She said a week later, they still looked (and tasted) just as fresh!! I think that's high praise for a cupcake. I got so into this project, that I went and bought a cupcake stand to display my cupcakes. Now I can't wait to make more!