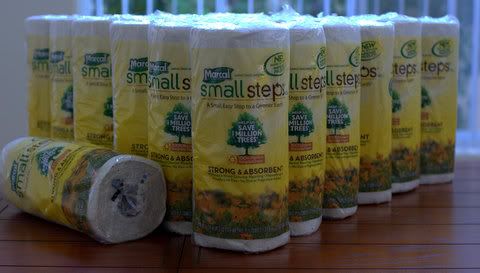 Marcal paper towels are on sale for $10/10 at select Albertsons' through 9/29. There's a coupon from the Sunday newspaper for $1/1 , making them FREE! I had to go to a few stores before I found them on sale at the Ray Rd location. So far I've accumulated 22 free rolls. I'll probably head back to the store for a rain check so I can get more before the coupons expire. This should hold us over for a while!
I can also feel good about being GREEN, since Marcal is 100% recycled. I'm not adventurous enough to buy the Marcal toilet paper (they're also on sale for $10/10)…somehow recycled sandpaper doesn't sound too cushy on the bum. Besides, as Tony says, "We don't NEED any more toilet paper!!" My stockpile of free toilet paper from Albertsons is still going quite strong. Can you believe I haven't paid for toilet paper since March 2007?!
Thanks to KC for the heads up on the Marcal sale.